The Lenox Area Chamber of Commerce is proud of the community of Lenox and encouraged by our continued growth and dedication. The commitment of the business owners and residents has been tremendous and certainly shows with a thriving Main Street as well as expanded businesses in town.We continually strive to promote the community, businesses and take great pride in Lenox. Together we can do more is only a motto; but truly how Lenox approaches each day.
November 25 - December 24
Lenox Area Chamber of Commerce
200 1/2 South Main Street
Lenox, IA 50851
Phone: (641) 333-4272
Email: lenoxchamber@lenoxia.com
BEDFORD EVENT DATES
July 3
Fireworks at Lake of Three Fires
July 4
4th of July Parade and BBQ in the Courtyard
November 25-December 24
Tinsel Tree Lane @ Taylor County Historical Museum
ATTRACTIONS
Bedford Municipal Swimming Pool
LaDoga LaBlanch Orchards
Home of the Little Red Schoolhouse Junction of Hwy 2 and Garden Ave.
Bedford, Iowa 50833, 712-303-7766
Lenox Municipal Swimming Pool
Lenox City Park
Lenox, IA
641-333-4141
Rainbow Iris Farm 3149 Kentucky Avenue Bedford, IA 50833-8039
Spring's General Store & Cafe
Main Street
Sharpsburg , IA
641-349-8416
The Heritage
Restored 1904 Victorian Home
300 N. Main St., Lenox
319-360-2163 for information
Taylor County Historical Museum
1001 W Pollock Avenue
Bedford
712-523-2041
PLACES TO STAY/CAMP
Deer Ridge at Lexington
2255 Lake Road
Bedford
712-542-9272
Lake of Three Fires Cabins
2303 Lake Road, Bedford, IA 50833
712-523-2700 or 1-877-427-2757
The Bedford Inn
607 Jefferson St
858-205-2301
The Barn at Kent Farms
1232 250th Street
New Market
712-435-0609
Lenox Lodge, B&B
Now taking reservations
Call Amanda @ 641-413-3788
The Heritage
611 King Street, Blockton, IA 50836
712-303-1367 or 641-788-3187
Skylark Motel
108 Pearl Street, Bedford, IA 50833
712-523-1015
PARKS/CAMPGROUNDS
City Parks
Blockton, Clearfield, Conway, Gravity, Lenox,
New Market, Sharpsburg
LaDoga LaBlanch Orchards
Home of the Little Red Schoolhouse
Junction of Hwy 2 and Garden Ave.
Bedford, Iowa 50833, 712-303-7766
Lakes of 3 Fires State Park
2303 The Lake Road, Bedford, IA.
Park Ranger – 712-523-2700
Sand's Timber Recreation
Co. Road J55, Blockton, IA.
West of Yellowstone Ave.
Wilson's Lake
South & East of Lenox, IA.
Managed by Taylor Co. Conservation Board
EVERY DAY IS A GREAT DAY TO EXPERIENCE BEDFORD
Haven't been to Bedford for a while? Well, consider yourself invited! We would love to invite you to plan a girls day out or join us as a family for one of our town
wide events! We are experiencing a bit of our own rural revival and can offer you some great shopping options!
SOUTHWEST IOWA HAS GREAT PLACES TO HOLD YOUR EVENTS FOR THE COMING YEAR!
Taylor County Iowa offers many places to hold your meetings and events.
You don't need to travel to a large city; we have some of the best facilities available.
Weddings and Event Venues are affordable for all occasions.
The Barn at Kent Farms – www.BarnatKentFarms.com, 1232 250th St., New Market, Iowa 51646.
712-435-0609
Deer Ridge at Lexington – www.DEERRIDGEATLEXINGTON.COM, Bedford, Ia. 50833
712-542-9272
LENOX COMMUNITY CENTER – www.lenoxia.com, 210 E. Dallas St., Lenox, Ia. 50851.
641-333-2228
Not only are these great venues available for all of your event needs there are several Bed and Breakfasts close by that offer lovely comfortable suites.
The Nest @ 306 N. Elm Street, Lenox, Iowa 50851 – contact Elizabeth Jessen at 641-342-0841 or e-mail her at thelenoxnest@gmail.com
The Heritage Inn, 300 North Main St., Lenox, Iowa 50851 – 319-360-2163 or find them on Face book at TheHeritageInnLenox
Lenox Lodge Bed & Breakfast, 305 W. Temple, Lenox, Iowa 50851 – 641-413-3788 or lenoxlodgeiowa@gmail.com
The Southwest Iowa you will find enchantingly rustic event spaces with a countryside charm.
Visit us in Southwest Iowa.  See for yourself, what we have to offer.  You will be pleasantly surprised.
PAINT IOWA BEAUTIFUL
We were awarded a Paint Iowa Beautiful Grant with a clear vision in mind! The Bedford Area Chamber office is located at 622 Court Ave and was the old ambulance shed. The 2 large garage doors were still adorned with the ambulance logo on them so the town's promotions committee decided to cover them up in a BIG way. They saw a big, white, blank canvas that needed bright colors and a positive message. A local art student at Bedford Community High School with a passion for murals decided to take on the daunting task. When the project was complete she reflected on what she had accomplished saying "The words "Small Town, Big Heart" were chosen for a reason. And it was during the time of painting the mural that I was shown that this is true. Bedford is a wonderful place to be.
YOU ARE INVITED!
You are officially Invited! This year we have invested in new signage, so when you come visit you will be able to find just what you are looking for. Dining, fuel, lodging, and recreation are just a few of the many things we have to offer here in Bedford. Come spend the day with us!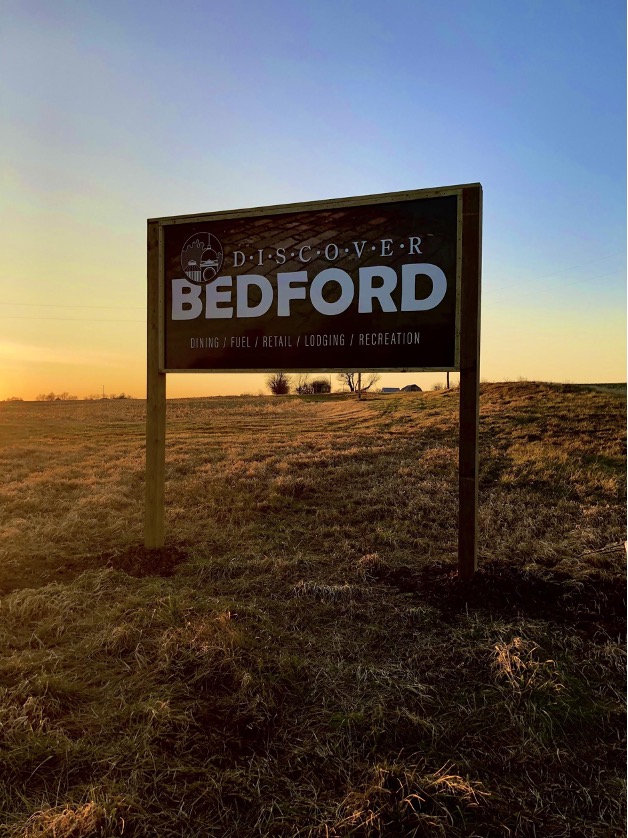 MEET BEDFORD'S BARBER!
By Nicki Lock
In a building built in the 1880's on Main Street, Bedford, is a business that has become rare to have in a community, not only because it is a profession that is not seen as much nowadays, but also because one man has been in business for 61 years. Ames Polston, owner of Town and Country Barber Shop is located at 422 Main.
Walking in to the shop Ames still has the original 1880's barber bar, old style cash register and barber chairs.
Ames attended the Iowa Barber College in Des Moines in 1958. It was a six month program. His dad wanted him to be a barber and did not want him to be a farmer like he was. "I said I'd try it for a while and I'm still here," said Ames.
He came to Bedford when he was 19 years old from Missouri. "I came here with an old 51' Ford and a suitcase of tools, is all I had," he recalled. "It was totally accident. I was looking for a job in Atlantic and I didn't think it was going to pan out. I started stopping at towns on the way back," he said about ending up in Bedford. He started in a building in the 300 block of Main Street, where his wife, Bonnie Polston operated a beauty shop. After six months he moved to his current location. Ames did a one and a half year apprenticeship under Gordon Reynolds, which was required for his schooling.
The reason he stayed here, he met Bonnie and they have been married for 55 years. At one time, there were three barbers in the shop on Saturdays, two full-time and one part-time. But for the last 20+ years Ames has been by himself.
Over the years Ames has seen the cycle of hairstyles, short hair to long hair and back. "It just revolves in a cycle," he said. He doesn't offer shaves any more. Ames said barbers got tired of doing them and just quit. "You couldn't sterilize a razor good enough, so they just quit," he said.
The cost of a haircut in 1958 was $1. "Some of them thought that was too high," Ames chuckled.
Saturdays used to be the busiest day of the week. And there were a couple other shops in town when he started cutting hair. "People
just got their hair cut more often," he said. One big change he has noticed is, the boys used to come to the barber shop with their Dads and now they go to the beauty shop with their Moms more often.
Ames sees quite a few clients from out of town, as Clarinda, Villisca and Corning do not have barber shops. One day he had a 100 year old man come in for a haircut for his birthday. Ames gave him a trim on the house for his birthday. He figures he has cut up to six generations of men's hair over the years. Ames recalled one Saturday morning coming in to a mom, dad and two aunts of a little boy waiting for the boys' first haircut. They had two cameras and a video camera for the occasion.
He has no plans for retirement. Ames said he is licensed for two more years and then continuing education for two years after that. Continuing education is a one day course in Des Moines, then he is sent an application for license. Ames has to complete the continuing education course every two years.
Town and Country Barber is open on Mondays, Wednesdays, Thursdays, and Fridays, and Saturday mornings. He doesn't book appointments, so just walkin.
When asked who cuts the barber's hair and if it was his wife Bonnie, Ames replied, "Once, but she got fired."
FUN FACTS ABOUT LENOX
FOUNDED: 1871
FOUNDERS: The town lot company for the Chicago, Burlington, and Quincy Railroad
NAMED FOR: The daughter of a railroad executive
INCORPORATED: 1875
POST OFFICE: 1872-Present
1880 CENSUS POPULATION: 615
2010 CENSUS POPULATION: 1,407
LOCATION: Sections 5,6,7 & 8 of Platte Township (Taylor) and 32 of Grant (Adams)
FAST FACTS: 1) There is an unusual urban legend concerning the naming of the town some of the residents claimed that the name was derived from a lazy ox owned by one of the early pioneers. The ox would lean on whatever it could—hence the name "Lean-ox."
2) The first library in Lenox was not established until 1941. Literacy however was always important to the community. The Lenox Time Table is one of the oldest contiguous newspapers in the state, having been founded in 1874 by a Mr. Lupton. According to Colleen Larimer, the first issue was printed around Independence Day as they handed out the papers for free as part of the celebration. Other newspapers included the Lenox Gleaner, The New Era, and the New Times.
3) Lenox telephone service began in 1900 and the waterworks was created in 1913. The first municipal light plant was created in 1932, however some homes had electricity as early as 1900. The town got its first police car in 1959.
4) The school mascot is the tiger and Lenox Tigers manifest themselves around town quite a bit. There was once a carving of a tiger in the park, and the bowling alley is named Tiger Lanes. There's a Tiger Den restaurant and all the street signs are colored to resemble tiger colors.
5) The 2010 horror film "The Crazies" was filmed in Lenox.
6) Tyler Drug Store, later Tyler pharmacy had the distinction of being the longest, contiguously run, drug store in Iowa operated by the same family. The business was started by Oscar D. Tyler in 1880 and remained in the family until Win Tyler passed away in 2013—a total of 133 years in business.
7) Lenox prides itself on its annual Christmas light display where they show off their "Bright Lights and Shining Hospitality." The tradition was begun in 1986.
TOWN MOTTO or SLOGAN: From Prairie to Prosperity
TOWN FESTIVAL: The Lenox Stock and Saddle Club Rodeo
75 YEARS OF CELEBRATION
This year the Lenox Stock and Saddle Club is celebrating 75 years! Congratulations!
Membership in 2019 was 88 members strong. This dedicated group works hard to keep this three-day rodeo going strong.
Saddle club members feature a wonderful opening and closing show from horseback. Wright Rodeo Company provides the livestock. The rodeo performance features events from bareback and saddle bronc riding, calf roping, steer wrestling, team roping, breakaway roping, barrel racing and bull riding. Kid's mutton bustin' and steer riding kickoff the rodeo each night.
A member of the United Rodeo Association, Lenox has been named URA Rodeo of the Year at least 15 times. The contestants have the opportunity to vote to name the rodeo of the year. Special recognition Awards have been received from the IRCA many times.
The Barrel Racing Association has been at the arena for five years. They bring between 90- 100 entries each night. They run six weeks on a Tuesday night in the spring and again in the fall. This is a very successful event and provides extra income for the club.
While enjoying the rodeo, take a trip to the Cook Shack. Managed by the saddle club members where you can enjoy restaurant quality food. A variety of sandwiches and dinner plates are served. Other groups, such as the 4-H and Rotary Club, sell pop, popcorn and ice cream during the rodeo. The 4-H also helps with cleanup of the arena following each night's performance. The Rotary Club donates a portion of their proceeds back to the saddle club.
This annual event brings visitors from all over the country. Come on out and enjoy family entertainment at its best! You won't be disappointed.
LENOX LODGE, DENNY AND GWEN, PROPRIETORS
From 1944 to 1965, Denny lived with his mother and grandfather at their family home located at 305 West Temple, which now is the location of the Lenox Lodge. In the late 60's, the property was sold for taxes. In 2014, a friend in Lenox told Denny that his old family lot was owned by the Lenox Development Corporation. Denny contacted the President of the Corportation to see if they would agree to sell it to him, which they approved.
Since the house had been torn down years past, Gwen and Denny decided the best use of the lot was to build a residential unit, with attached storage building. Knowing that Lenox had no motel and one well-run Bed & Breakfast, they thought there was a need for another B&B. They petitioned the Lenox City Council for their approval to operate the B&B. The council approved their request in November 2018, and they officially opened the Lodge in December,2018. The mission of Lenox Lodge is to operate a pleasing, well-run facility that will accommodate Lenox visitors requiring overnight accommodations. Also, theyhope that in some small ways, Lenox's business will receive a benefit by having people stay in Lenox.
The Lodge can sleep up to 6 guests. It has a living room, dining room, full kitchen, two bedrooms, with a sofa bed in the living room, bathroom with washer and dryer. For pictures, pricing, and reservation information individuals can go to lenoxlodge@aol.com. They also can contact Amanda at 641-413-3788 or by email lenoxlodgeiowa@ gmail.com