Ringgold County is a quiet rural community surrounded by rich farmland in Southwestern Iowa, just 22 miles west of Interstate 35 on State Highway 2. Founded in 1875, the community was named in honor of poet Robert Burns' birthplace in Ayr, Scotland, and the "mount" was added to indicate its location on the highest point of land in the area. While retaining our past with historic buildings and cobblestone streets around our beautiful town square, we are moving towards the future with a new hospital opening in January 2010, a new elementary school being constructed and a new jail project being worked on. Whether you are looking for a place to relocate and raise your children, to start-up a business or a place to retire, we have it all.For more information contact:
Martha Landphair
P: 641-464-3704
E: ringgoldtourism@gmail.com
www.mountayriowa.org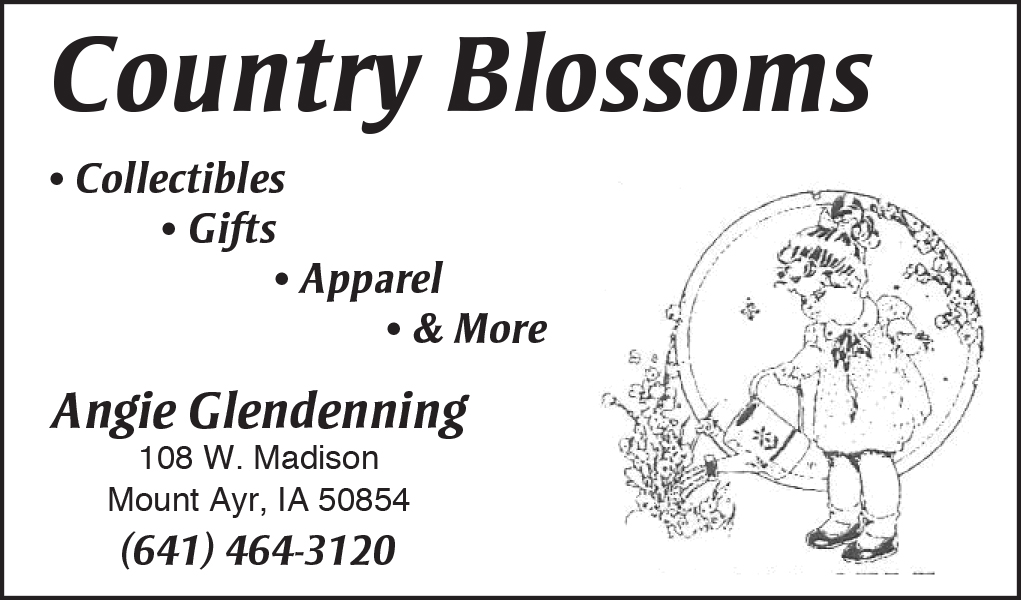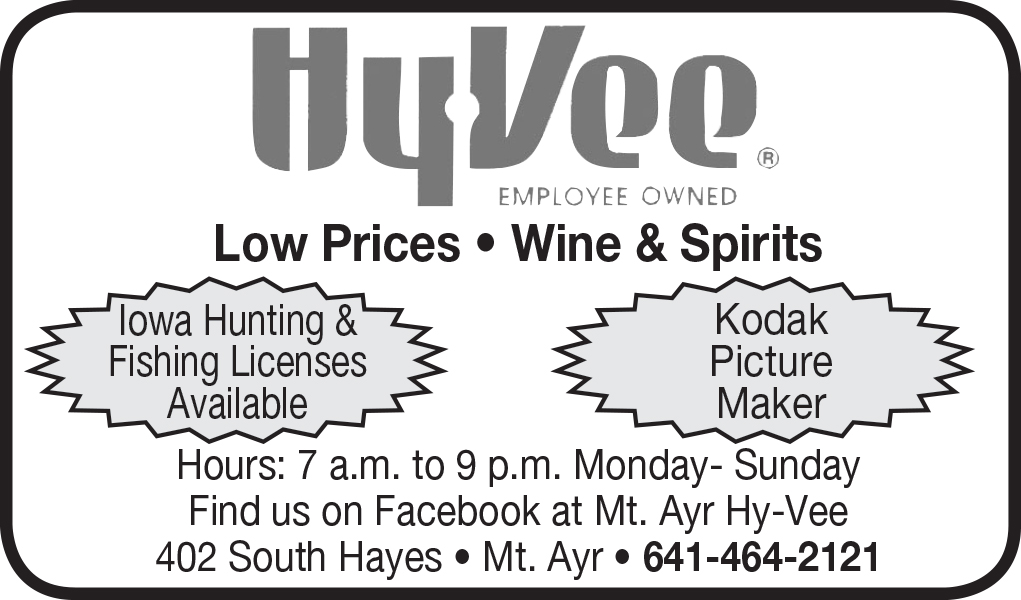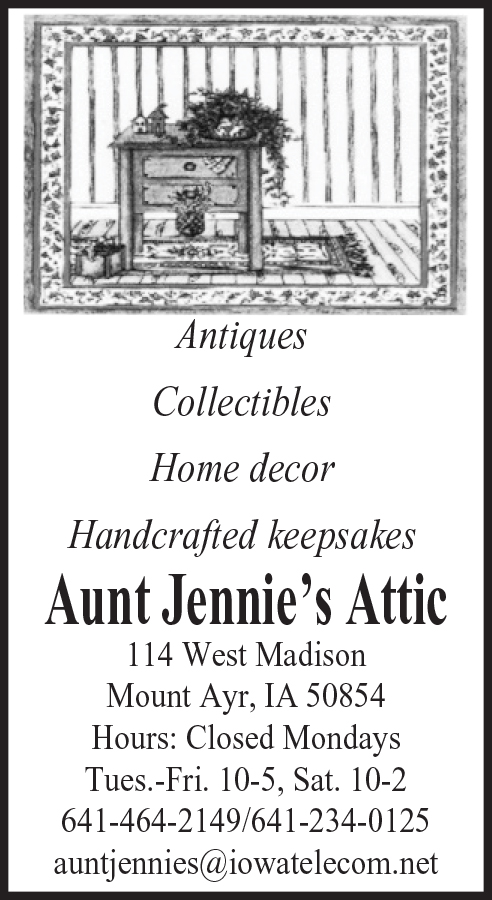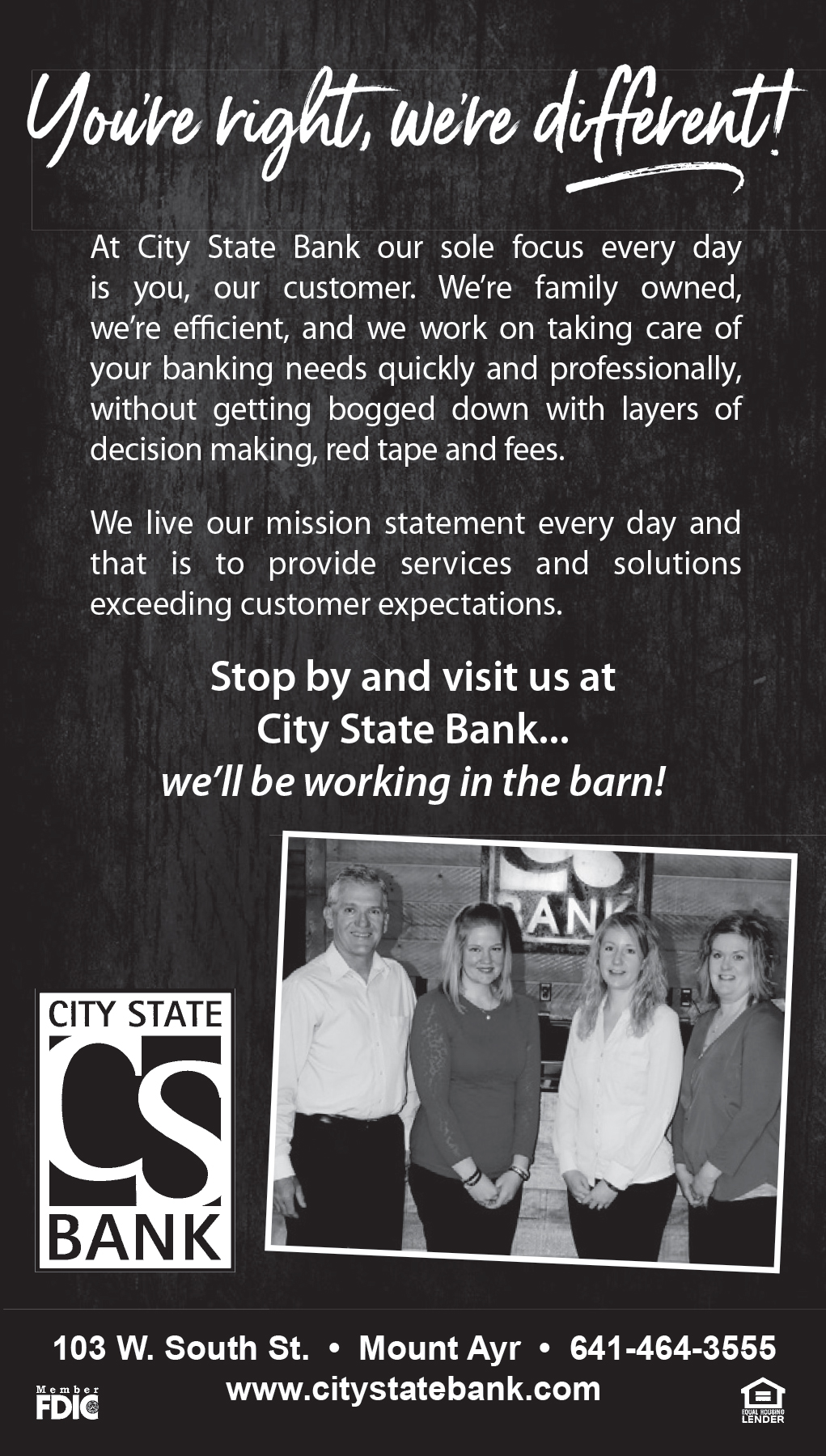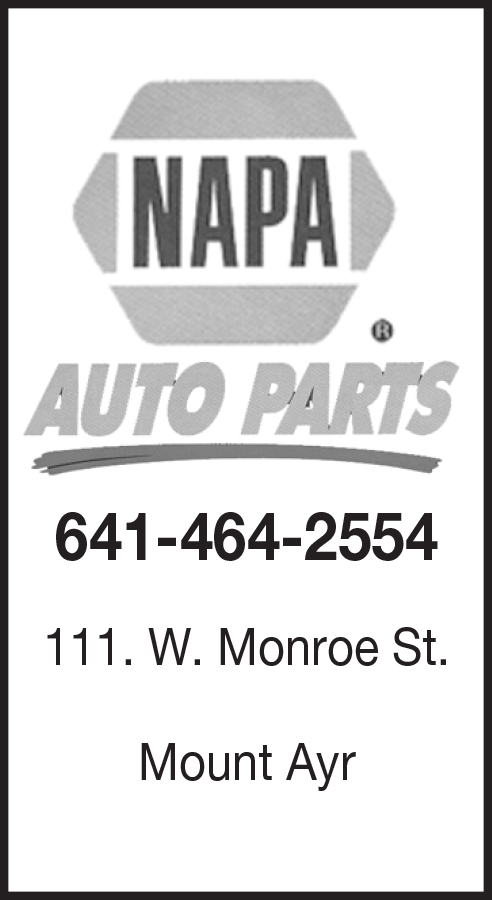 ATTRACTIONS
Corn King Mural
Mount Ayr Post Office
Diagonal Printing Museum & Genealogy Ctr
Diagonal
Ellston Museum & Pioneer Village
Ellston
First Hy-Vee Store
Beaconsfield
Freedom Rock
Diagonal–Main Street
Judge Lewis Part & Swimming Pool
West Mount Ayr
Lock Ayr Lake
2 miles n of Mount Ayr
Lucky Lanes Bowling
Mount Ayr
Mount Ayr Public Library
(a Carnegie library)
121 W/ Monroe
Mount Ayr
641-464-2159
Mt Ayr Restored Depot
Mount Ayr
Peggy Whitson Rock
Courthouse Yard
Mount Ayr Square
Princess Theater
Mount Ayr
Redding City Park
Redding
Ringgold County Courthouse
Mount Ayr,
641-464-3239
Sun Valley Lake
East of Ellston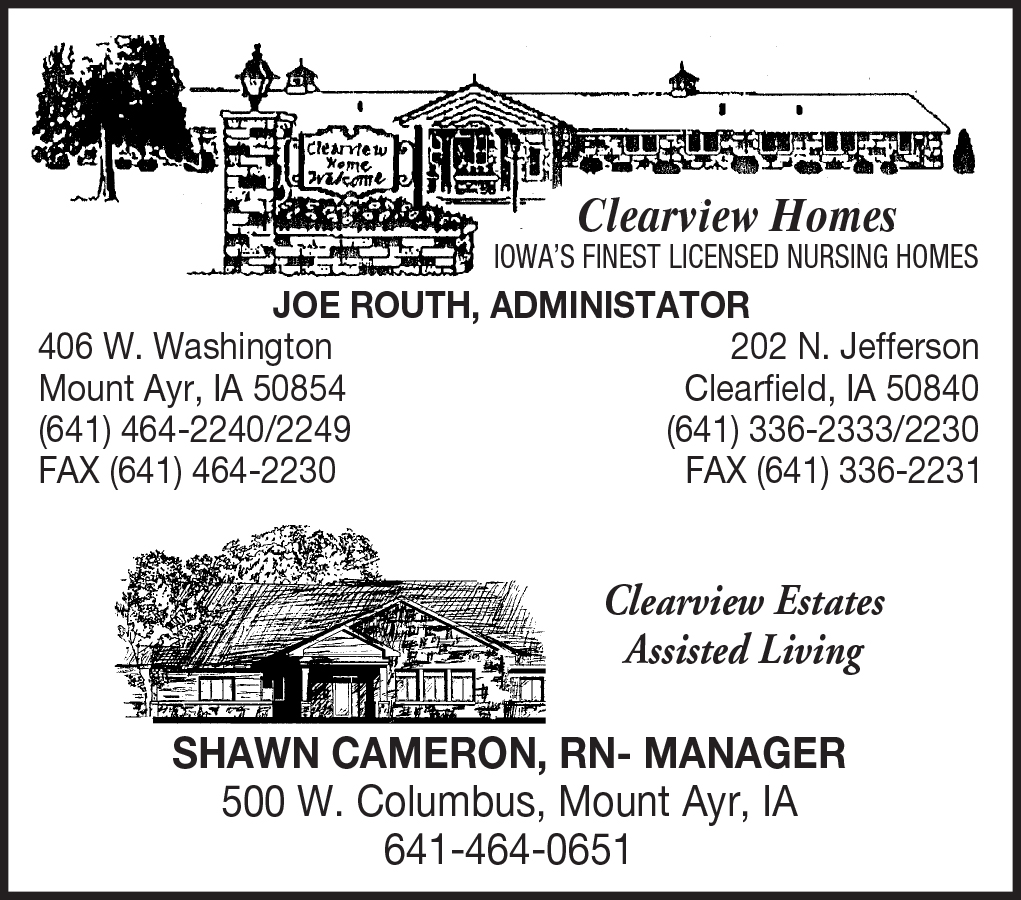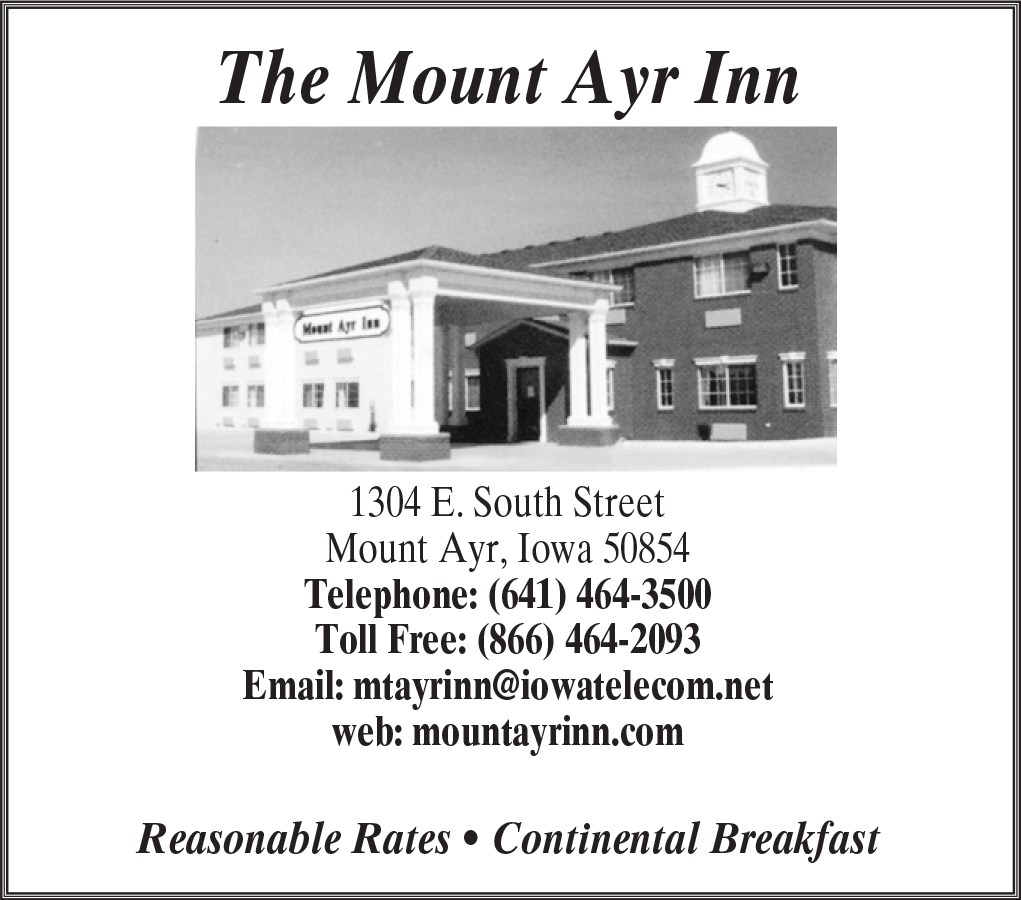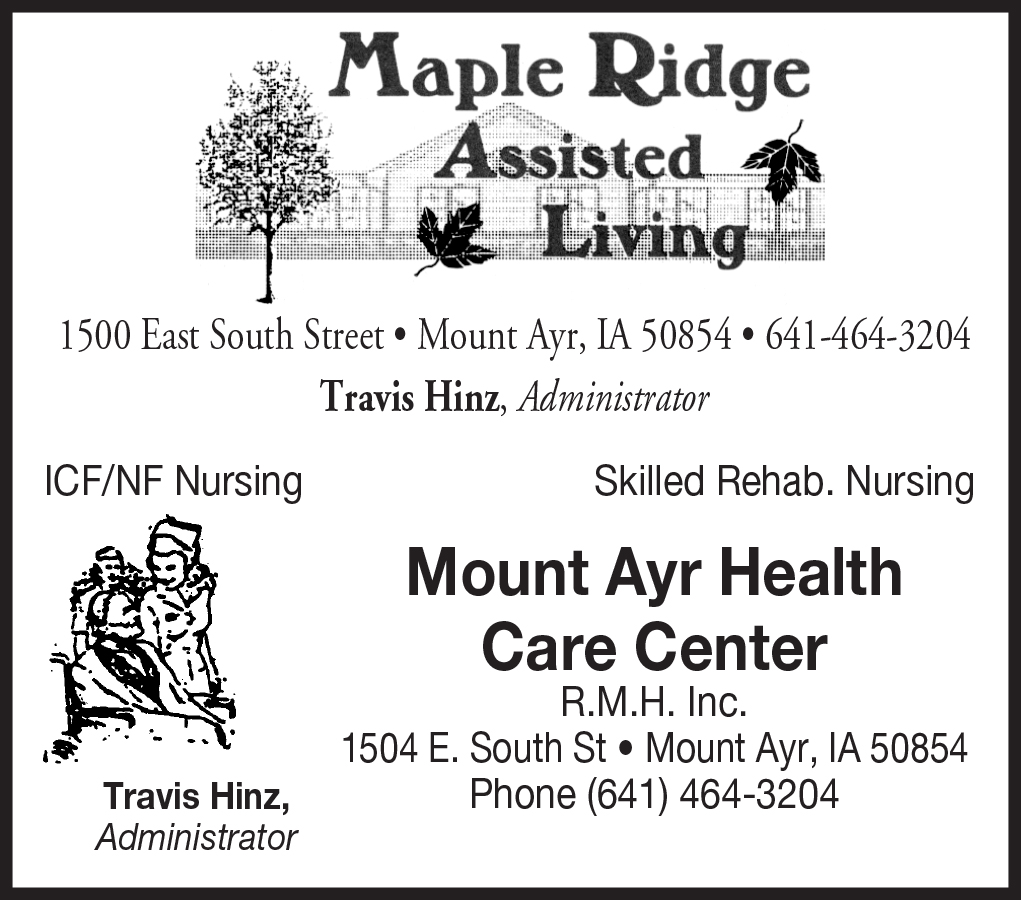 PLACES TO STAY
Armstrong Guest House
204 W. Monroe St
Mount Ayr
641-344-5553
Charlie – Jane's B&B
400 W. Madison
Mount Ayr, IA
641-464-2564
Mount Ayr Inn & Suites
Intersection of Highways 169 & 2
Mount Ayr, IA
641-464-3500
Lesanville Inn B&B
2285 270th Ave.
4 miles east of Mount Ayr on Highway 2
641-414-8550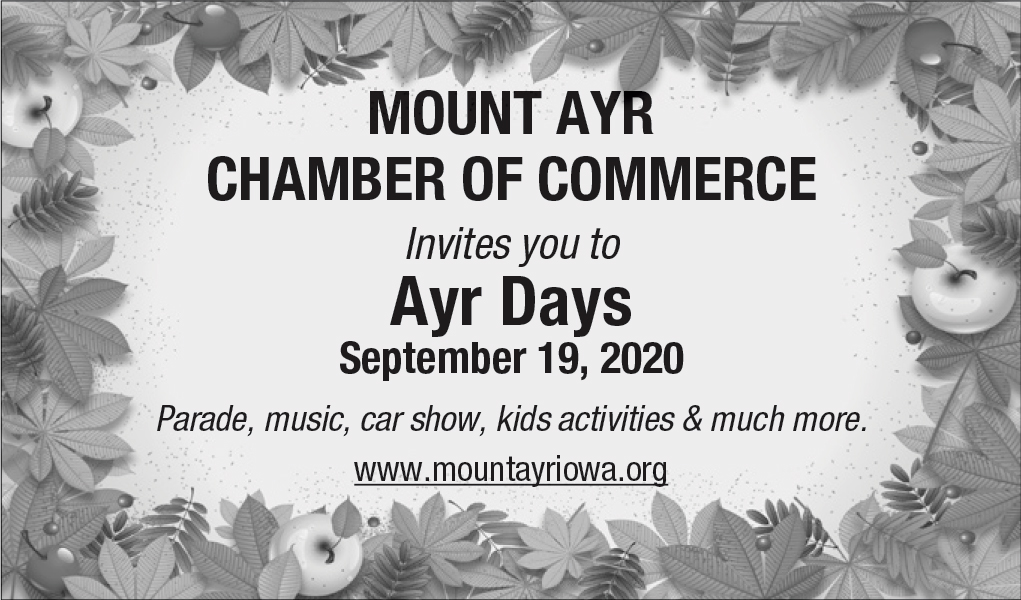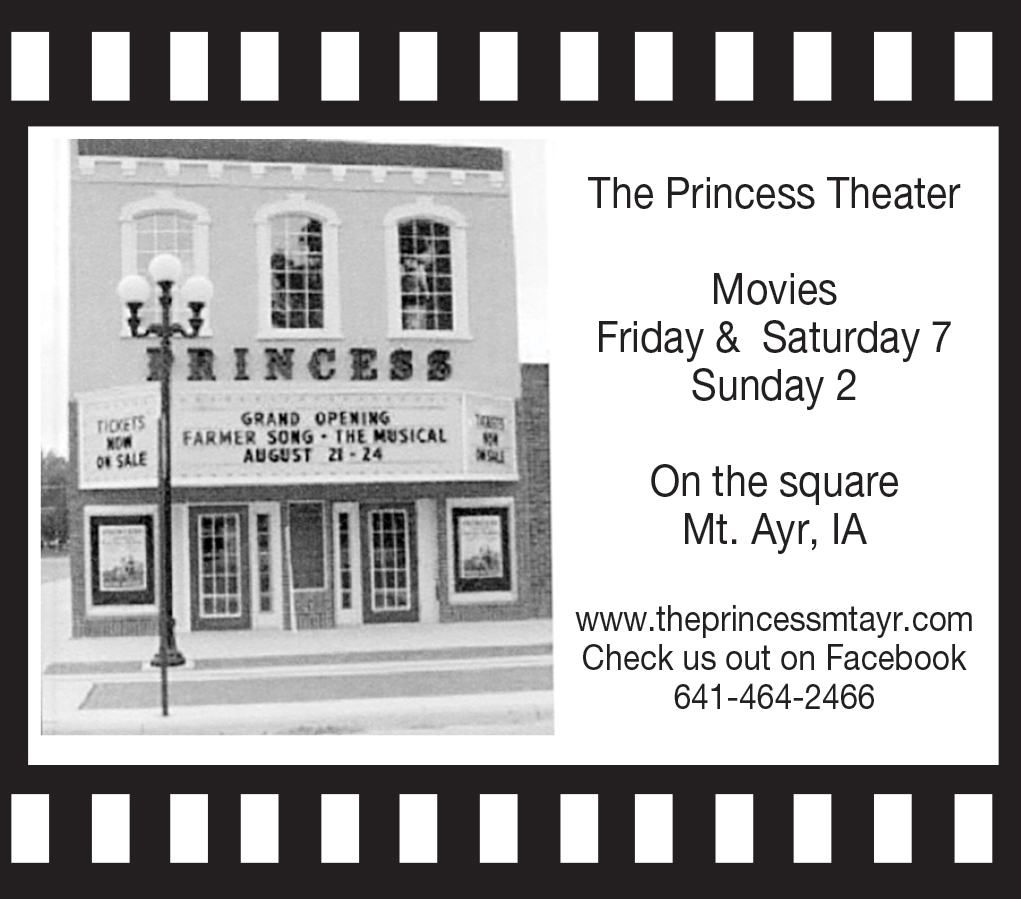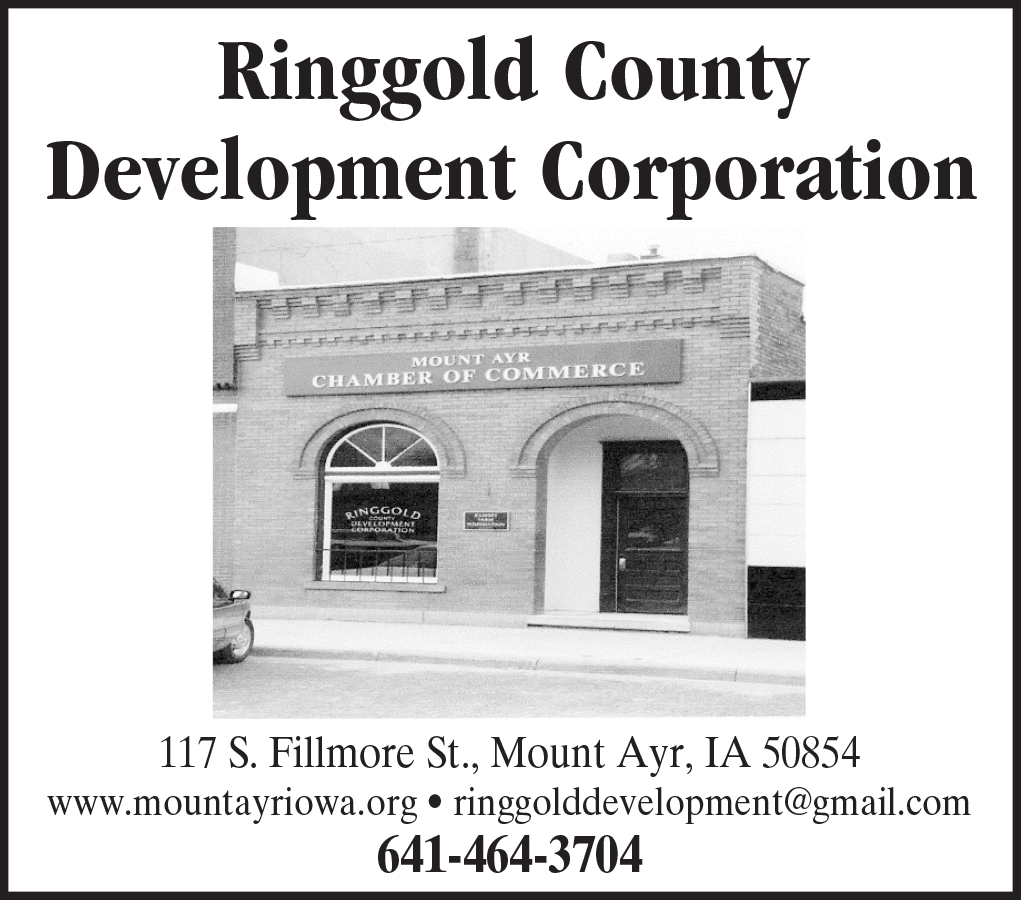 PARKS/CAMPGROUNDS
Fife's Grove Park
Fogle Park Recreation Area
Kokesh Recreational Area
Poe Hollow Park
Liberty Lake
2173 State Hwy 169
Mount Ayr
641-464-2787
DEVELOPMENT CONCEPT RELEASED FOR LIBERTY LAKE
Liberty Lake is an up and coming destination for Southwest Iowa! The Ringgold County Conservation Board and staff have been working hard to make improvements to the area and putting together a vision plan for future development, all while writing grants to keep this vision moving forward. It is with great excitement that we release the visual concept for the future of Liberty Lake.
The history of Liberty Lake is fascinating and has served the people of Ringgold County in multiple facets for the past 100 years! Ringgold County Conservation hopes to continue the legacy of the area by creating a more user friendly area with improved access and increased amenities.
In September 2018, the     Conservation Board acquired Liberty Lake. This began a new frontier for the Conservation Board, as Liberty Lake is the largest body of water they own and manage. This relatively undeveloped area has been deemed a priority asset to establish cabins, kayak & canoe rentals, shower house & lodge. These amenities are not currently available to Ringgold County Conservation area users and will be an exciting addition.
Ringgold County Conservation began improving maintenance and upkeep immediately with incredible results. Brush along the entire shoreline was removed, opening the lake up for more recreational opportunities. A fish habitat stamp grant was received in January 2019 and will improve water quality, shoreline armoring and fish habitat. Increased signage, bridge repair and shelter house improvements have increased the positive use of the area. This area is relatively undeveloped with a small shelter house being the only current facility on the property. Liberty Lake has the potential to be a great outdoor recreational asset with multiple water recreational opportunities, unique boardwalk trail looping around the south end of the lake, RV camping, cabins and event lodge that will help self-sustain the area by utilizing user fees for future maintenance  and upgrades.
"In under a year of ownership, Ringgold County Conservation is proud to see the positive changes and improvements happening at Liberty Lake. As we continue in our efforts to improve tourism, environmental education and outdoor recreation in Ringgold County through the Dragoon Trace Nature Center (2019 Iowa Tourism Outstanding Attraction winner), our many parks, wildlife areas, trails and more, we look to the future of what our great program can offer to visitors and local community members," said Zimmerman the Executive Director of Ringgold County Conservation.
This project will be completed in stages as part of a complete project known as the Liberty Lake Development Project. Below is an abbreviated list of the Liberty Lake Vision Plan. Each stage will rely heavily on grants and donations to be completed. Thank you for your continued support of our program and to the countless people and organizations that make all this possible.
Stage 1 – Name Change, Maintenance and Minor Improvements – COMPLETE
After the acquisition of the Mount Ayr Reservoir, Ringgold County Conservation moved forward with redefining the park by renaming the area "Liberty Lake", voted on by the public. The name change has taken the Mount Ayr Reservoir's negative nickname "old lake" term and provided the area with a new, brighter future. Other efforts completed include: increasing maintenance efforts by removing brush around the lake and mowed areas, removing over 100 tree stumps cluttering the mowed areas, removing old wooden docks that have become hazardous, placing signage throughout the area, road and bridge maintenance, shelter repairs, installing a grill for the shelter house, temporary restroom and more. Stage 2 – Lake Improvements – IN PROGRESS
Due to the lake's close proximity to Mount Ayr, it is one of the most frequented and largest public bodies of water in Ringgold County. Local, out of county and out of state visitors frequent this park for multiple recreational opportunities. The lake, a staple part of this park, would benefit from improvements to guarantee the success of the area development.
The improvements to the lake would increase angler access, armor the shoreline to prevent erosion and improve fish habitat with rip-rap placed beneath the shoreline. This placed rock will also encourage improved fish habitat, improve water quality and will improve angler success. Rock mounds placed along the north, east and west side of the lake will also provide additional fish habitat that will benefit the angler. Placing pea gravel in shallow sections of the southeast and west side of the lake will provide spawning substrate for desirable fish such as blue gill and crappie and provide additional angling opportunities. These enhancements will take this development project to the next level and provide long term recreation, fish habitat, shore stability and water quality for this popular body of water. Along with lake improvements, new docks will be installed on the east and west sides of the lake that will include at least one kayak launcher.
Stage 3 – Primitive Cabins, RV Camping Sites, Restroom/ Shower House – IN PROGRESS As Stage 3 comes to fruition, the implementation of primitive cabins, a shower house and electric camping sites will be the main focus. Our primitive cabins will boast electricity only amenities, while the shower house will provide restrooms and showers for the RV campers and primitive cabin users.
Along with cabin rentals, visitors will have access to kayaks and canoes that will be housed in a storage area off the side of the shower house. Other minor improvements during this stage will include bridge repairs and upgrades to allow for RV crossing.
Stage 4 – Full Service Cabins Ringgold County Conservation is delighted to add full service cabins to the impressive line-up of developments at Liberty Lake. This is a very exciting stage for Liberty Lake and will provide the ONLY full service cabins in Ringgold County and within all the neighboring counties, with the exception of Adams County's Lake Icaria in Corning.
This plan entails 3 full service cabins in a beautifully landscaped area with a full view of the lake. Each cabin area will boast its own parking, fire ring, grill and green space for play. Visitors will experience an outdoor adventure with all the modern conveniences of home without feeling restricted or cramped by neighboring travelers.
Stage 4 also includes one larger vacation rental cabin that can be utilized for a multi-family vacation or group of friends. This cabin will be set to the south of the property amidst a woodland grove that will provide a more secluded venture while also having access to the lake.
Stage 5 – Event Lodge and Landscaping
The final stage of development for the Liberty Lake project is an event lodge for the community. This is a much needed venue for Ringgold County and will also provide  a great revenue source for the Ringgold County Conservation Board as a way to become more self-sufficient.
The building would be similar to the Dragoon Trace Nature Center, as a Sand Creek Post and Beam building, but custom to the needs of an event center with a 300 person capacity. This center would have two levels to host multiple events or one large event. The event lodge would also have custom landscaping specific for wedding celebrations. Other landscaping ventures include: native prairie seeding and boardwalk crossing for the south end of Liberty.
LIBERTY LAKE DEVELOPMENT
After releasing the full scale plans for Liberty Lake this summer, the Ringgold County Conservation Board is excited for the progress and updates happening this year. Multiple phases of the project are in development including the lakeshore armoring and spawning beds provided by a Fish Habitat Stamp Grant. The South Central Iowa Community Foundation also recently awarded the Mount Ayr High School $20,000.00 to build the primitive cabins (electric only) at Liberty Lake. Ringgold County Conservation is excited to partner with MACHS on this project!
Ringgold County Conservation would also like to recognize the current groups and organizations that have pledged funding, labor or materials towards this project: City of Mount Ayr, Mount Ayr Community Schools, Ringgold County HELP Youth Pod, Ringgold Outdoor Alliance and Ringgold Pheasants Forever.
All contributors will be recognized on a donor wall at the Liberty Lake event center once complete. If you would like to donate, please call the Ringgold County Conservation office at 641-464-2787.
NEW BISON MOUNT COMING SOON
We are excited to announce that the Dunn Ranch Prairie, part of the Grand River Grasslands managed by The Nature Conservancy has donated a Bison for the Dragoon Trace Nature Center! In the entire Central Tallgrass Prairie Ecoregion, an area spanning 110,000 square miles and parts of six states, Dunn Ranch Prairie represents possibly the last chance to conserve a living landscape of tallgrass prairie on deep soil. Of the original 2,281-acre plot purchased by the Conservancy in 1999, more than 1,000 acres have never been plowed. Grasslands are important not only for native species, but also for people. They clean our water, protect us from flooding and store carbon in their roots. For more information about The Nature Conservancy visit https://www.nature.org
WALNUT CREEK FARM GREENHOUSE & PRODUCE
By: Blair Glendenning
Dave, Jenifer, and Aaron Breneman moved to Iowa three years ago and later Aaden would make his appearance into this world. Dave had been to Iowa guiding deer hunters and really liked this area (Ringgold County). Right after their oldest son Aaron graduated high school they moved to Ringgold County to pursue everyone's dream of farming. They knew tobacco grew in Wisconsin and Missouri, so they picked right in the middle to start their farm. Jen was raised on a poultry and tobacco farm growing up, so she had abundant amount of knowledge about it.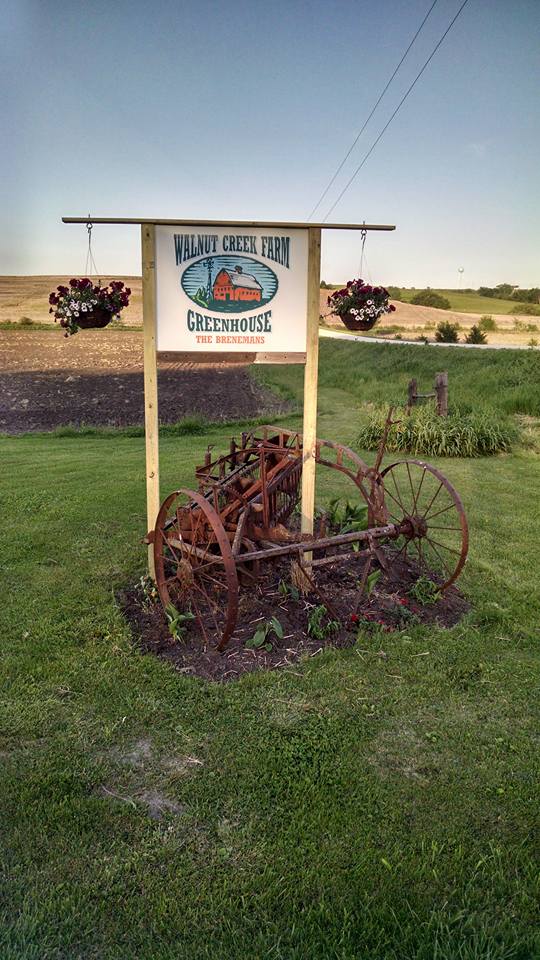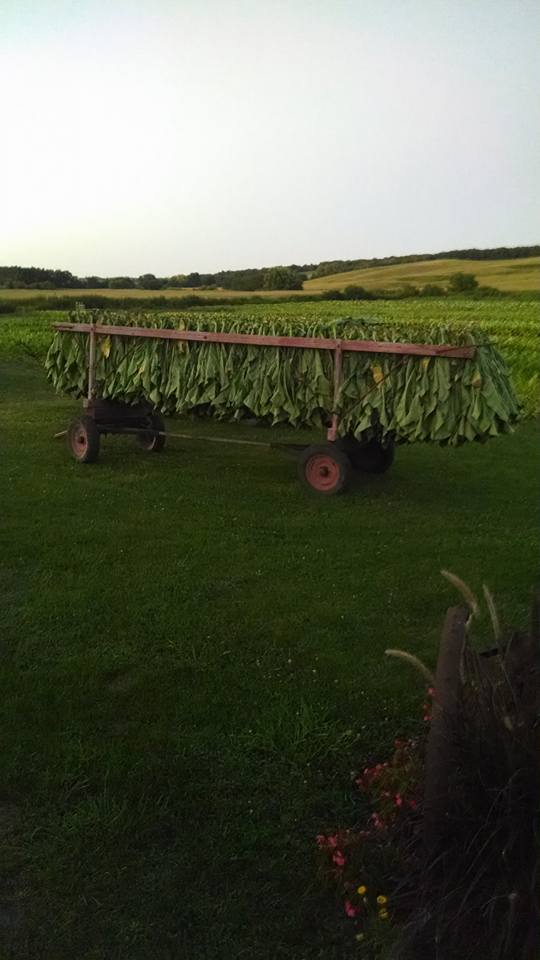 The tobacco gets planted in the greenhouse mid March and transported to the field mid May to mid June. The plants are in the ground from beginning of June until harvest time during the month of September. The first year tobacco was in just one field, but the past two years they have had multiple fields with tobacco. Every step with the tobacco is handwork, so it takes approximately two weeks to harvest about six acres. (They have raised six acres the past two years)
The Breneman's do all of their work in the evening after Dave and Aaron are done working their full time jobs and then on Saturdays, too. This also depends on the weather. The sun needs to be shining to get into the field. The perfect weather is hot, humid, and dry weather with a few tenths of inches of rain every week, but we live in Iowa, so who knows what the weather will be like in a few hours.
In the greenhouse they have a seeder to assist. The tobacco starts in a Styrofoam tray in a float bed with 288 cells per tray. In the field, four people sit on a trans-planter and plant by hand, two at a time. To harvest they cut the tobacco with clippers (giant scissors). Then, spear five stalks onto a lathe, which is then laid into piles. They pick the piles up and transport them to the greenhouse or barn. They are then hung in the building until they are dried/cured. Then, they wait until the tobacco is cured, which is around the end of November. The stems on the leaves, as well as the leaves, need to be dried down and brown. The next process of the step is stripping the tobacco, which is grading the leaves and putting them into tobacco presses that can make bales the size of a small straw or hay bale. That is the end product and they deliver and sell.
If the tobacco doesn't keep them busy enough, they also have a greenhouse. They built the greenhouse for the curing step of the tobacco, but since it sits empty while the tobacco is in the field growing they also have plant business, which they are planning to expand.
You can find them west of Mount Ayr about three miles. You can "like" them on Facebook at Walnut Creek Farm – Greenhouse and Produce. They offer annuals, perennials, vegetables, flowering, hanging baskets, herbs, planters and supplies, and much, much more.
DRAGOON TRACE NATURE CENTER
The Dragoon Trace Nature Center has come to life!! It's hard to believe that we started this journey over 5 years ago!! I (Executive Director, Kate Zimmerman) started working for RCCB in the fall of 2010 and we have made so much progress in the past 6 years. We started our Environmental Education program with just a few furs and nothing else! It is hard to imagine that we now have a nature center and provide over 175 programs, reaching over 3,500 people each year.
Ringgold County is in a unique situation compared to most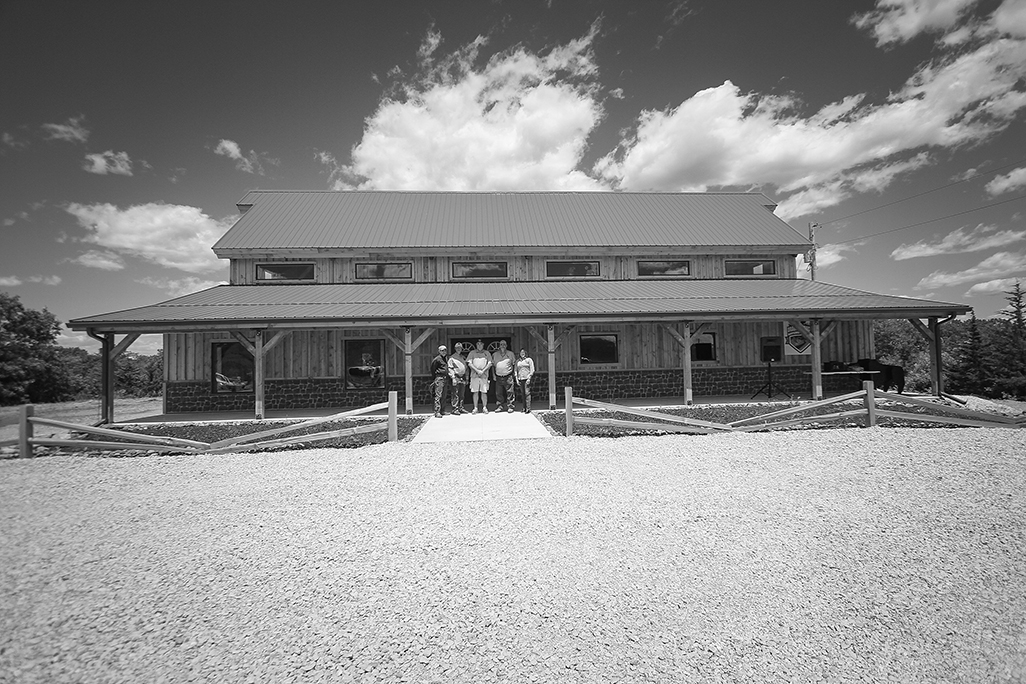 Conservation Boards. Only employing 1 staff member makes many things difficult to accomplish. This Conservation Board is more than just a "meet once a month board", they are active in every aspect of this organization, which is why we have been so successful in our many projects.
This has been the undertaking of a lifetime! With no local county tax dollars going into the construction of the building, this was fully funded by grants, donations and fundraisers. We are beyond proud to be able to bring an environmental education center to southwest Iowa. We would like to thank our many donors for their generous contributions. We couldn't have done it without you!
And, we're not done yet!
There are several exciting things that we will be developing over the next few years, including our landscaping around the Nature Center that will include trails, butterfly gardens and ponds. We will also periodically host traveling exhibits that will bring new and exciting displays. You will also see seasonal display changes focusing on different species throughout the year.
The Conservation Board looks forward to completing these exciting additions to the nature center that will enhance the environmental education opportunities.
Definition of an Outdoor Learning Environment (OLE).
We define an OLE as a deliberately selected or designed outdoor setting, used and supported by many in the community that provides an intentional space for exploration, inquiry, and learning to empower environmental literacy and education in any discipline. An OLE can be located at a community location like a library, park, adjacent to a protected natural area, or other places where the outdoor setting can enhance educational opportunities for all community members.
Our Goal!
To provide a unique opportunity to Iowans that builds community value by creating accessible and vibrant outdoor learning spaces that enhance people's relationship with the outdoors and inspires people with Iowa's native landscape.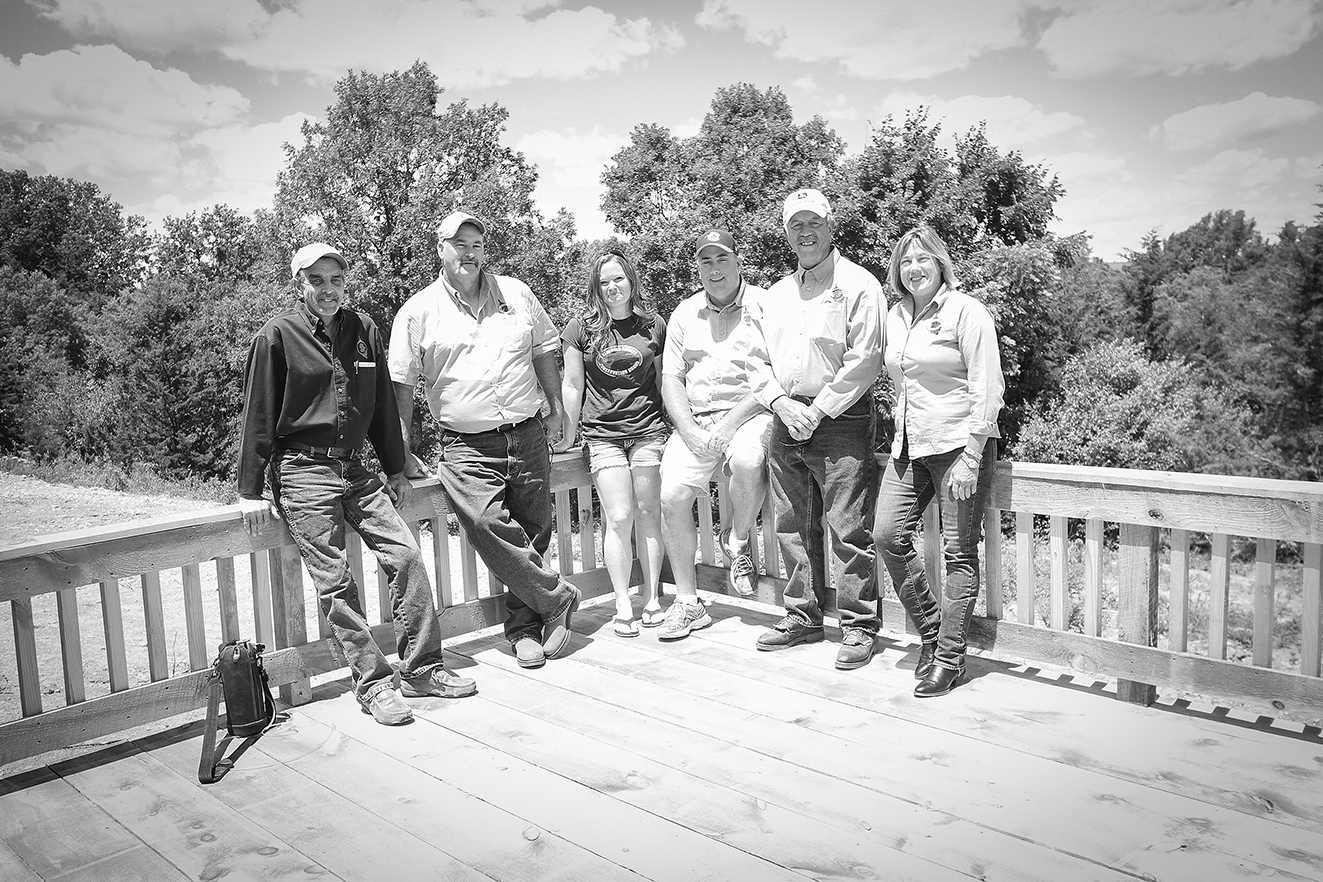 The Dragoon Trace Nature Center at Poe Hollow Park is owned and operated by the Ringgold County Conservation Board (RCCB) for the following purpose:
"To provide an inviting place, with educational programming, that encourages visitors to make a personal connection with nature and offers opportunities to discover, experience and enjoy our local natural resources."
The Nature Center cannot be all things to all people at all times because of limits on time, staff and space. Thus, priorities have been established to insure an orderly use of these limited resources based on the stated purposes. Please keep in mind, the Nature Center is an educational facility, not an event center.
The Nature Center has no admission charge and is free to the public. A fee may be assessed to specific programming or fundraisers. Groups larger than 10 should schedule a visit to the nature center to avoid interfering with other large groups such as a school field trip.
The Nature Center has one conference room that may be rented for use for business type meetings. Reservations must be made through the RCCB administrative office at least two weeks in advance of date requested and can be
scheduled up to 6 months in advance of the use date. Fees will be assessed for use of the Nature Center's conference room. ASK ABOUT OUR BIRTHDAY PARTY PACKAGES!! Nature Center hours vary by season and will be charged according to seasonal hours.
Follow us on Facebook for up to date notices such as unscheduled closings or new exhibits at the nature center. For more information contact Ringgold County Conservation at (641)-464-2787.
MOUNT AYR COMMUNITY SCHOOL'S NEW AND IMPROVED AUDITORIUM
By Haylea England
Despite some technology glitches throughout the week of November 6, on November 11, 2016, the newly renovated auditorium in Mount Ayr High School opened for public viewing, as well as for the fall play, Shrek the Musical. Improvements from acoustics, visuals, and lighting were all made in the major renovation.
Senior drama member and the face behind Shrek, Mitchell Jennett, was impressed with the improvements. "The old wood in the former stage was just gross," Jennett said. "There were paint chips and everything all over it. The curtains were getting all torn up. These are super nice. And, the sound is incredible compared to what we used to have."
Delwyn Showalter, the school athletic director, also oversees the fine arts department. In his opinion, the facility finally matches the level of performances.
"We have a really strong performing arts department here in Mount Ayr, and this auditorium is just wonderful for them," Showalter said. "Shaun Kniep gets so many kids involved with our plays. They always did a great job in facilities that were outdated. It was hard to hear. We were extremely excited for the weekend to come and enjoy the experience in such a nice, new facility. The stage is rearranged a lot better," Showalter said. "The acoustics are better. The light booth was moved up above, creating more space down below. We have better seats and better lighting."
Shaun Kniep, a Mount Ayr graduate who has taught at the school 15 years after three years in Diagonal, said the new auditorium is a smaller version of the Des Moines Civic Center, in terms of acoustical elements. Sound reverberates into the middle of the seated section, instead of fading out in the old auditorium.
"First of all, the aesthetics are better because the audience sees school colors (black, red and gray) instead of the old orange and yellow with orange carpeting from the 1970s in the old auditorium," Kniep said. "There are acoustic boards on the side walls and on the back wall of the auditorium. They also put in 'clouds' in the ceiling, formations that are designed to bounce the sound from the stage to the back wall and back toward the audience. That's what you see in the Civic Center. It's awesome."
Seating is also designed so everyone in the audience can see the stage performance. Seats are constructed of different widths across the rows so that no one is seated directly behind the person in front of them. Plus, there is a gradual rise in the elevation of the seats, which is another improvement from the previous auditorium.
"It's designed so that people can see between the shoulders of people in front of them, and you no longer have to worry about sitting behind someone really tall," Kniep said. "We still have 400 seats, but our aisles are a little narrower to allow for the seats of different sizes across the rows."
Besides housing the Mount Ayr Community School drama department, the band and vocal use the facility for their concerts and several classes are taught at different times throughout the year in the auditorium such as PE and driver's education. The facility can also be rented to the public for performances.
MOUNT AYR PUBLIC LIBRARY
In September 1913 a group of people met to discuss putting a library in Mount Ayr. On June 15, 1915 the idea of constructing a building was submitted to a vote by the people. The result of the vote showed that the women were more interested in obtaining the library than the men, as the vote of the women being 212 for and 68 against and the men's vote was 180 for and 122 against. An application was made to the Carnegie Foundation for a grant of $10,000. Due to the lack of increase in population, the foundation gave $8000 toward the building. The women did much fundraising to secure the additional monies. The total cost of the building was $10,349.85 including the heating plant, lighting, furniture, book shelves, architect fees, excavating & filling, lying of necessary walks and sewerage.
A Carnegie library is a library built with money donated by Scottish-American businessman and philanthropist Andrew Carnegie. Nearly all of Carnegie's libraries were built according to "The Carnegie Formula", which required financial commitments from the town that received the donation. Carnegie required public support rather than making endowments because "an endowed institution is liable to become the prey of a clique. The public ceases to take interest in it, or, rather, never acquires interest in it. The building is still used today.
The Mount Ayr Public Library is located on the southwest corner of the square. The library director is
Mary Kathryn Gepner and is assisted by Bobbie Bainum and Nancy Roe. The library is open from 1:30 to 5pm Monday, Tuesday, Wednesday and Friday. On Thursdays the library is open from 10 am to 6 pm and Saturday the library is open from 9:30 to 12.
The library is equipped with a lift chair to accommodate the handicap. Access to the lift is through the handicap entrance at the back of library to the basement.
The basement also has a meeting room with a kitchenette that groups or individuals may rent out. There is also a Genealogy room in the basement. The library has an extensive collection of genealogical materials including local family histories, cemetery records and other items of interest.
The library is on the top level with books for all ages including large print and books on tape. They also have DVD's and videos for checkout. There is also access to computers for patrons to use as well.
The librarian conducts a weekly discussion group with senior residents at Clearview Estates assisted living in Mount Ayr. The librarian delivers books and newspaper to the Estates and to Clearview Homes, the attached nursing home.
The librarian also presents special programs at Mount Ayr Health Care Nursing home once every three months.
The librarians will select books for those who cannot get to the library.
For more information – stop by; call 641-464-2159 or email: mlibrary@mchsi.com.
MOUNT AYR PUBLIC LIBRARY
The history of the building goes back to the 1920's when it was The Mount Ayr Mill & Feed Company started by Jesse Anderson & George Tenant. They began selling and grinding feed under their own private label MARCO (Mount Ayr Ringgold County). Max Anderson purchased the building in the 1950's and remained in business until 1992. The building was purchased in 2006 by Keith & Jamie Miller, which had been unoccupied for several years.
The "Old Mill", as all the locals know it by, went through a complete remodel beginning in August of 2006. A new addition was added to east side to be used for dining. Jamie's Coffee Mill & Deli opened for business in November 2006. After being open for one year and realizing the addition was not big enough to be used for dining, another addition was added to the west. Dining was relocated to the new addition, adding more room for gift items to the east room. The west addition was designed to look as if it had always been a part of the building.
Jamie's Coffee Mill & Deli has a variety of gift shop items to choose from; filling three rooms! People have said it to be a "mini Cracker Barrel"….you can shop while you wait for your food or coffee. If you need a coffee, there are a wide variety of flavors for a Latte', Frappe' or good gourmet black coffee. Fruit Smoothies are always a great choice also. All food items (sandwiches, wraps, panini's & salads) are made fresh to order.
Jamie Miller states "When I started this business, I never dreamed I would be as busy as I have been. I am thankful for the community and its support, and hope for many more years here."
ASTRONAUT PEGGY WHITSON
Iowa native and astronaut Peggy Whitson grew up on a farm near Beaconsfield in Ringgold County and graduated from Mount Ayr High School in 1978. In 2017, Peggy wrapped up a record-breaking mission aboard the International Space Station.
Whitson has spent more time living and working in space than any other American or any woman worldwide. She has a total of 665 days over three different missions aboard the International Space Station. Her third and most recent mission ended in September 2017 after spending more time (288 days) in orbit during a single spaceflight than any other female astronaut.
During her career, she has also broken a number of other records. She is the first woman to command the space station twice. She has completed 10 spacewalks, more than any other woman in the world. She has logged 60 hours and 21 minutes walking in space, more than any other woman in the world. She was the first woman to serve as Chief of the Astronaut Corps.
Aboard the space station, Whitson performed numerous assembly and maintenance projects as well as conducted hundreds of biology, biotechnology, physical science and earth science experiments.