Make a Stop in Creston
Creston is located in the beautiful rolling hillsides of southwest Iowa. The citizens of Creston are proud of their community and look forward to sharing it with you.
It is the largest city between Des Moines and Council Bluffs (2020 Census) in southwest Iowa.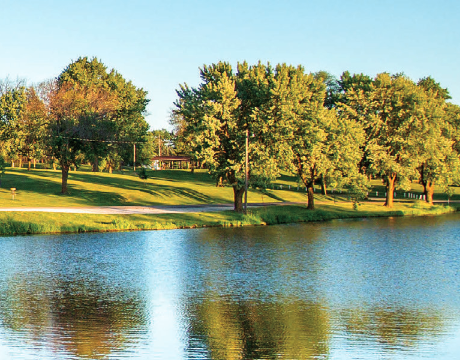 As the regional hub of southwest Iowa for business, education, industry, medicine, shopping and recreation, Creston caters to residents and visitors wanting small-town service with big-town products. Creston has many interesting shops where there is always a friendly face and home-town hospitality.
Over 2,100 acres of water including five lakes, three being Three Mile Lake, Twelve Mile Lake and Green Valley Lake, and over 6,090 acres of publicly owned parks, woodlands, prairies and wetlands all conveniently located within a 25-mile radius of Creston add to what Creston has to offer to visitors and travelers.
Creston hosts several events during the year. These include our Spring Market on Maple, a traditional Independence Day each July 4th, our Annual Creston/Southwest Iowa Hot Air Balloon Days on the third weekend in September and our Lighted Christmas Parade held on the Thursday after Thanksgiving as part of the two plus week events during No Place Like Creston for the Holidays.
Come and discover the opportunities that await you in Creston, where the attitudes and hospitality of our community welcomes people of all ages.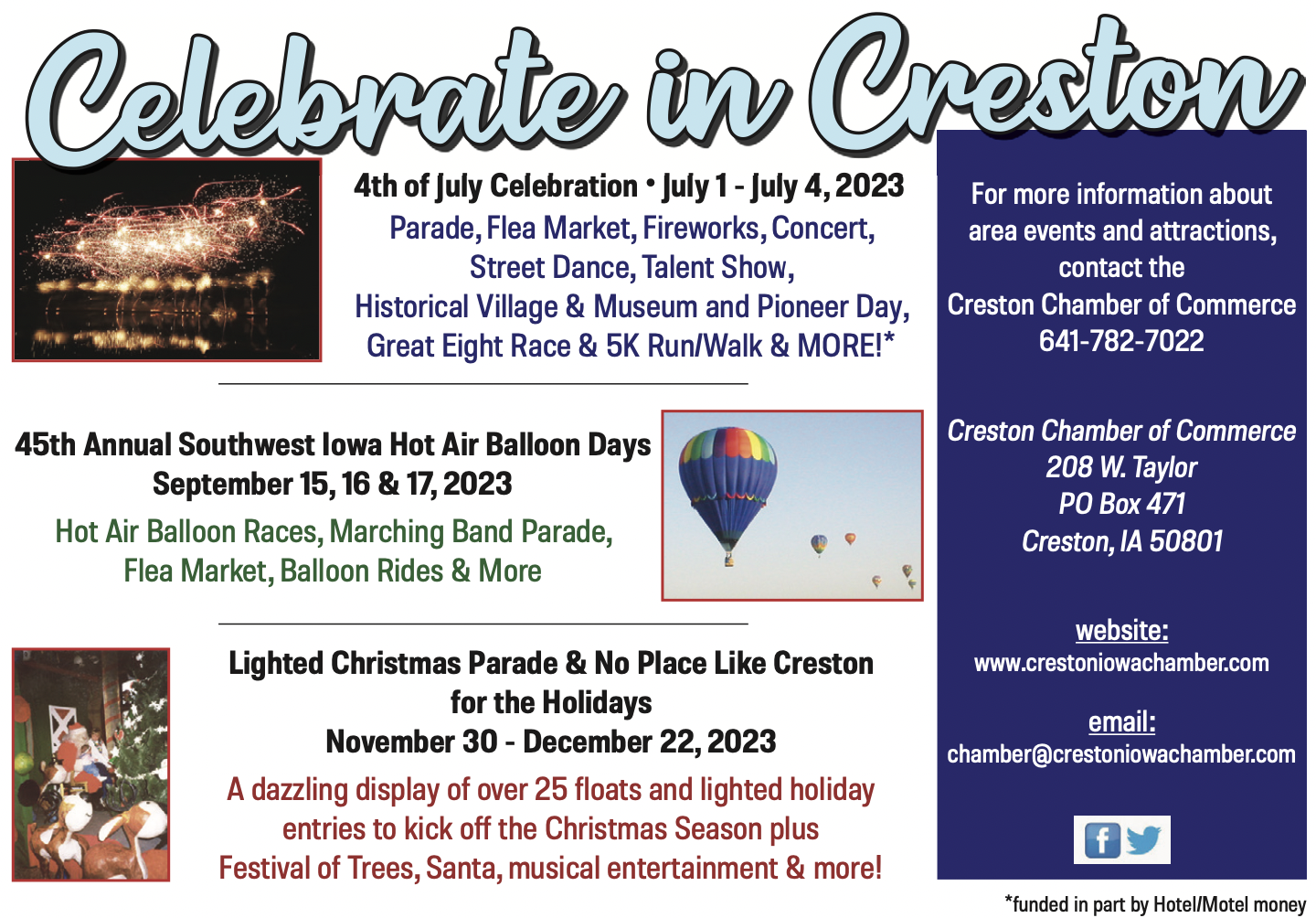 ATTRACTIONS
Afton Splash Pad
Afton City Park
641-347-5224
Creston: Arts Gallery
116 West Adams, Creston
641-782-2000, ext. 3
Creston Community Arts Center
Creston's Restored Depot
116 West Adams, Creston
641-782-2000, ext. 203
Creston Swimming Pool
McKinley Park
641-782-8918
Frank Phillip's Information Center & Union County Freedom Rock
west on Hwy. 34, Creston, IA
641-782-7022
High Lakes Shooting Range
North of Afton
641-347-5100
McKinley Park Disc Golf Course
Mount Pisgah Mormon National Monument
1704 Mount Pisgah Road
Thayer
641-763-2504
Park to Park Trail
McKinley Park to Green Valle
LAKES OF UNION COUNTY
For information on any of the lakes please
call the Union County Conservation Office
641-347-5100 or Union County Tourism –
641-782-7022
PLACES TO STAY
The Boresch Lodge
2379 Hwy. 169, Afton
641-340-5442
The Country Oasis B&B
2701 High School Dr., Afton
Holiday Motel
800 S Walnut, Hwy. 34 East, Creston
641-782-1688
Moonlite Motel
704 New York Ave, Hwy 34 West, Creston
641-782-4422
Supertel Inn and Conference Center
Sylvanus Lodges
1741 Creamery Road, Afton
641-347-5310
Three Lakes Lodge
801 N. Pierce, Afton
641-344-1959
EVENTS
April 16: Creston Schools Fine Arts Fest, Creston
April 19: Meals from the Heartland, Creston
April 28: Stepping Into Spring Fashion Show, Creston
May 13: Market on Maple Event, Creston
May 21: Creston High School Graduation
May 21: East Union High School Graduation, Afton
June 3: KSIB Tractor Ride, Creston
June 10: Citywide Garage Sale, Creston
June 25: Afton Pre-Fourth Celebration, Afton
July 1: 4th of July Celebration, Creston
July 1: Party in the Park, Creston
July 1: Run UC/ Great 8 & 5K Run/Walk, Creston
July 2-4: 10,000 Crestonians 4th of July Celebration, Creston
July 20-26: Union County Fair, Afton
July 29: McKinley Park Festival, Creston
Aug. 4: Uncorked & Uncapped Wine Walk, Creston
Aug. 5: Creston's Crush Cancer in Every Color, Creston
Sept. 14: Pork Chop Dinner, Creston
Sept. 15 – 17: 45th Creston/SW Iowa Hot Air Balloon Days, Creston
Sept. 16: 3rd Annual Arts Festival, Creston
Oct. 6-7 : Autumn Days, Afton
Oct. 7: Fiesta on Maple, Creston
Oct. 21: Bright Eyes in the Park, Creston
Nov. 30: Lighted Christmas Parade/Santa Visits, Creston
Nov. 30 – Dec. 2: Festival of Trees, Creston
Dec. 2: Merry Marketplace, Creston
Dec. 2: Afton Extravaganza, Afton
Dec 2: Holiday in the Park, Afton
Dec. 9: Santa Visits the Depot, Creston
Dec. 2: CARE Bake Sale/Gifts, Creston
Dec. 9-17: Drive Through December, Afton

PARKS/CAMPGROUNDS
12 Mile Lake
4 miles east of Creston
641-347-5100
Cedar Park
1937 190th Street, Creston
Country Court Mobile Home & RV Court
1804 Virginia Lane, Creston
1-800-398-9646
Garfield Park
west of Afton
641-347-5100
McKinley Park & McKinley Park Camp Ground
Creston – 641-782-2000 ext. 208
west side of Creston
Mount Pisgah Park
1704 Mount Pisgah Road, Thayer
Rainbow Park
500 block of S. Vine & S. Birch, Creston
Valley View RV Park:
1246 Green Valley Rd., Creston
641-782-0567
Hot Air Balloon Days In Creston
Creston and Southwest Iowa's hills and blue skies are a perfect setting for nearly 35 hot air balloons participating in the Creston/SW Iowa Hot Air Balloon Days the third weekend in September – September 15,16 &17, 2023. Now in its 45th year, the event is the second largest of its kind in the state of Iowa.
In addition to the balloon races during the week- end there is also the annual Hot Air Balloon Days Parade with high school marching bands from across the area, along with balloonists and many others on Saturday morning starting at 10:30 a.m. in Uptown Creston. The Creston City Center is the site of various activities for spectators of all ages as well. A Flea Market and Craft Fair is a must see as well as a stroll through town to visit the local merchants open for your shopping pleasure during the day.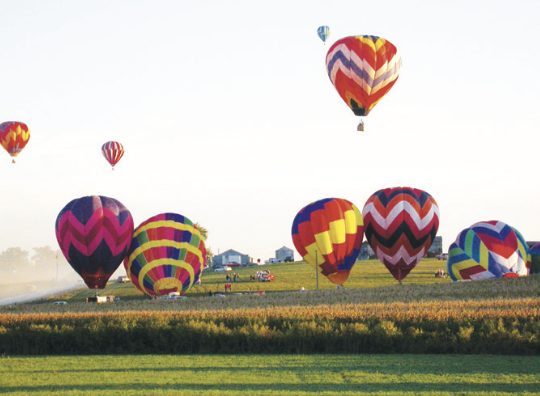 On Saturday afternoon you can continue to enjoy your day at the airport and participate in or enjoy the pedal pull and Pet Show. Weather permitting there are also tethered balloon rides available. There is also a marching band competition at the High School.
The very popular NightGlow begins around dusk. The event wraps up on Sunday morning with the last balloon race, weather permitting.
Mark your calendar and make your plans early to attend. For more information please call the Creston Chamber of Commerce at 641-782-7022 or visit their website at www.crestoniowachamber.com.
Up, Up and Away.
Afton - The Gateway To Three Mile Lake Recreation Area
Afton is a community that meets you and greets you on their square. It is located at the intersection of Highways 169 and 34 and is the southern Gateway to Three Mile Lake in Union County.
Every Tuesday evening from June through mid-August, the community gathers in the City Park, located in downtown Afton for the Farmers Market complete with music and food. The Lion's Club holds a Pre-Fourth of July celebration in the park the Sunday before the Fourth. A Community Church Service, food, entertainment and games are some of the activities on the day's agenda. The first Saturday in October they celebrate Autumn Days while the first Saturday in December they hold their Extravaganza and Holiday in the Park. The splash pad on the square is a fun stop for locals as well as visitors during the Summer.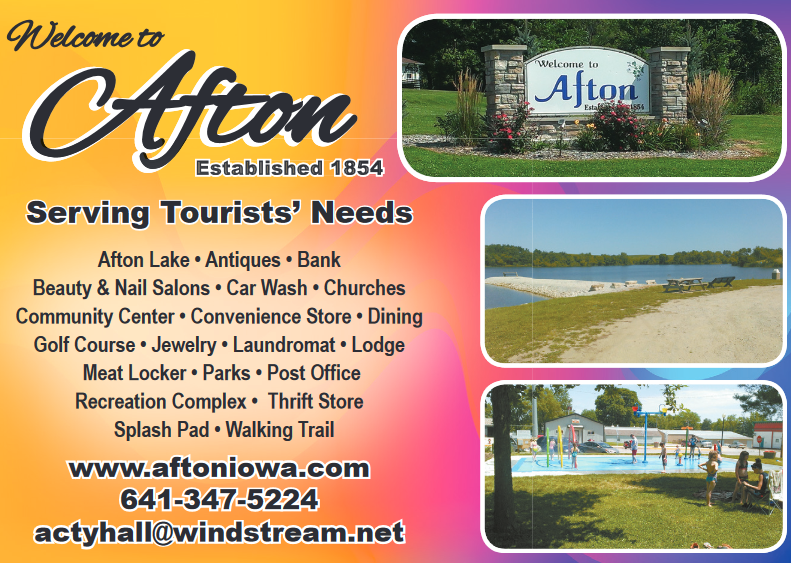 Afton has been hosting the Union County Fair held in July (July 20 through July 26, 2023) for as long as anyone can remember. A parade, rodeo and demolition derby headline the fair. While at the fair, visit the industry booths, tour the animal barns, 4-H booths and enjoy the great cooking and homemade ice cream.
Be sure to add Afton to your travel agenda. It is a great place to visit. Please call 641-347-5224 for further details or visit their website at www.aftoniowa.com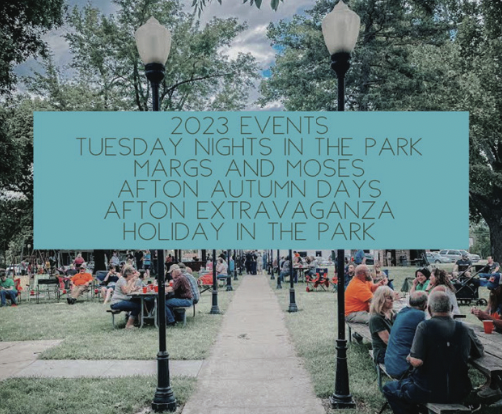 Welcome to Three Mile Lake Recreation Area
Three Mile Lake is the largest lake in the area as well as being one of the best fishing lakes in Iowa. The lower portion of the lake is open to sailing, power boating and water skiing (sorry, no inboards or jet skis). No-wake boating is permitted on the remainder of the lake.
The two campgrounds overlooking the lake have 80 sites to accommodate recreational vehicles, trailers and tent campers. Each site has electrical hookups. Water is available along with picnic sites, a fish cleaning station and dump station. Showers, sinks and flush toilets are available nearby at the year-around shower house.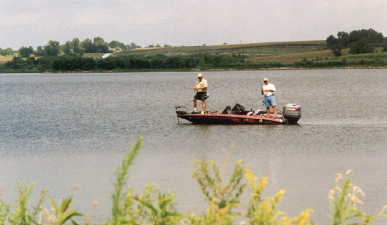 There are also eight year-around rental cabins at the modern campground which provide a genuine year-around attraction. Three Mile Lake Lodge is also available for rental year-round.
For more information please contact the Union County Conservation Office at 641-347-5100.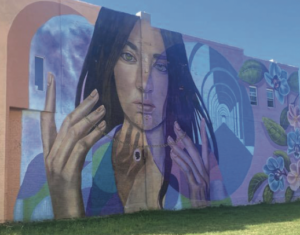 The Mentor Mural Program has been a huge success, creating over 30 vibrant murals around Creston in the last few years. This program engages youth with community service hours and others. The group has worked with many artists locally and across the country to create these murals.
This project wouldn't have been made possible without Creston Arts, the Iowa Juvenile Court Services, the Iowa Department of Human Services, The Dwight and Marilyn Conover Foundation, The Iowa Arts Council, The Knock Family Charitable Fund, Creston Community High School Arts, the City of Creston, the many property owners who have allowed their buildings to be used as canvases and Bailey and Blake Fry-Schnormeier.
Enjoy a Hometown Fourth of July in Creston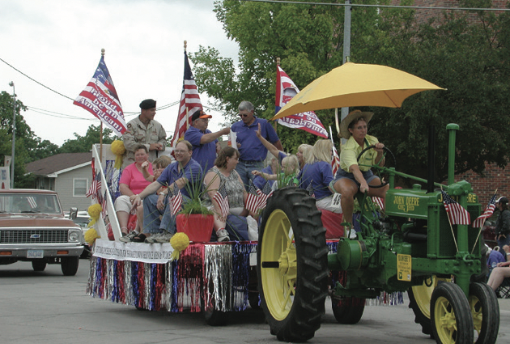 Looking for a fun hometown Fourth of July Celebration? Look no further than Creston, Iowa.
One of the highlights of the event is the annual 4th of July Parade held on July 4th in Uptown Creston. Creston is known for their parades and the July 4th Parade is one of the best and biggest. Before and or after the parade many people enjoy shopping the Flea Market.
McKinley Park is the center of many other Fourth of July events on the big day. The Union County Historical Village holds their annual Pioneer Days Celebration.
Another highlight of the 4th of July Celebration in Creston each year is the annual fireworks display at 9:30 p.m. in McKinley Park on the 4th. While fireworks are a staple of many Independence Day celebrations, Creston's are well above standard. Visitors from around the area, SW Iowa and northern Missouri come again and again to enjoy the show.
For a complete listing of events and activities please visit www.crestoniowachamber.com.
If you are looking for a place to spend the 4th of July, remember Creston. You won't be disappointed.
Relax and Enjoy Yourself at Green Valley State Park
Green Valley State Park is located three miles north of Creston on Green Valley Road (N. Lincoln Street). Green Valley Lake has long been a popular fishing spot for both bank and boat anglers. A number of fishing jetties are available, as well as fishing piers for persons with varying abilities. A section of shoreline is designated as 24-hour fishing access. Four boat ramps provide convenient lake access.
The campground boasts non-electric, electric, and full hook-up sites (water and sewer) as well as modern restrooms, showers, and a trailer dump station. There is a primitive "youth group site" that is available for Scouts and other youth organizations. Three seasonal camping cabins are located along the lakeshore. There are two playgrounds within the park. There is a playground located right outside of the campground and there is a playground located in the campground.
A 6.5 mile paved multi-use trail is located on the East and South sides of the lake. The trail begins in the campground and provides a scenic view of the Eastern side of the lake. Across the dam, the trail passes through DNR managed Mitchell Marsh, and it's worth a stop to watch waterfowl and other wetland species of birds, particularly during spring and fall migrations. The trail connects to Creston and Southwestern Community College and continues south through town to McKinley City Park. For more information please call 641-782-5131 or you can check on the park on-line at Iowadnr.gov.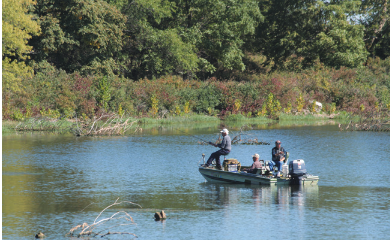 Union County Historical village and Museum Is A Must visit
The Union County Historical Village and Museum is located in Creston just off Highway 34 West in beautiful McKinley Park. Here you can find buildings reminiscent of a prospering rural town in Iowa around the 1890's. You can see the fully furnished last operating rural school in Union County. Other original buildings brought to the complex include an 1855 log cabin, a barn originally built in 1896, a house built before 1900 and the Spaulding Methodist Church where weddings still take place today. A depot, originally from Lucas and later used at Brooks, along with a signal tower from the Creston rail yards and a caboose, emphasize the importance of the railroad heritage to the area.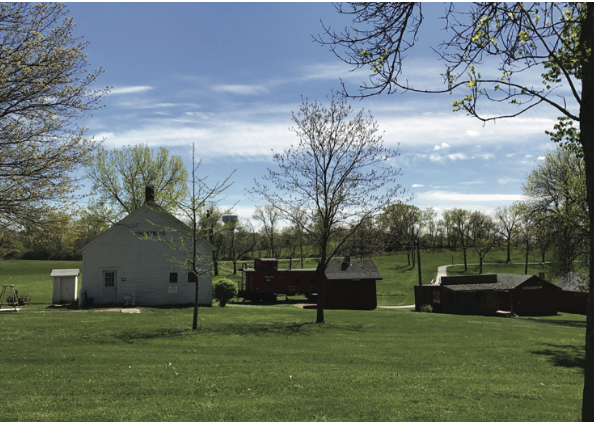 Replicas in the village include a general store, harness shop, barbershop, blacksmith shop, fire station, machine shed, print shop and gristmill. A museum adjoins the village and contains hundreds of artifacts and Union County memorabilia.
The Village is open from 1:00 to 4:30 p.m. on Friday, Saturday and Sunday from Memorial Day through Labor Day or by appointment and is free to the public. Tours can also be scheduled during the year. For more information please call Dick at 641-782-4000 or Sharon at 641-782-2870.