OSCEOLA CHAMBER-MAIN STREET CALENDAR OF EVENTS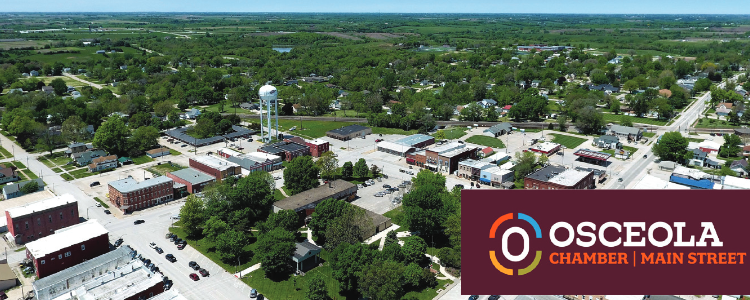 June 1: Meet Your OCMS Members Osceola, Osceola
June 30-July 4: 4th of July Celebration, Osceola
August: Latino Festival, Osceola
August: Restaurant Week, Osceola
October: Downtown Spooktactular, Osceola
Nov. 3: Wine Walk, Osceola
ATTRACTIONS
Clarke County Historical Museum
Hwy. 69 South,
Osceola
641-342-4404
Historic Depot & Amtrak Stop
Osceola Amtrak Station
B: Main & East Clay St.
Osceola
800-872-7245
Mormon Trail
Throughout Clarke County
641-342-4404
Mormon Trail Ruts
2 miles west of Murray
641-342-4404
Osceola Public Library
Carnegie Library 300 S. Fillmore
Osceola
Revelton Distilling Company
Warrior Osceola Statue
Hwy. 34 West
Osceola
641-342-4404
PLACES TO STAY
AmericInn Motel & Suites
111 Ariel Dr.
Osceola
641-342-9400
Blue Haven Motel
325 S. Main
Osceola
641-342-2115
Evergreen Inn Motel
221 W. McLane
Osceola
641-342-3162
777 Casino Dr.
Osceola
641-342-9511
Quality Inn
710 Warren Ave
Osceola
641-342-6666
Super 8 Motel
720 Warren Avenue
Osceola
641-342-6594
The Timber Ridge Tree House
Downtown Osceola | 641-342-6002
PARKS/CAMPGROUNDS
Little Indian Park:
Corner of Temple and Jackson Street.
Q-Pond Park and Walking Trail:
West Clay Street walking trail connects to East Lake Park.
Warren Family Park:
Warren Avenue and Truman Road.
East Lake Park:
Located 1 mile east of Osceola on Hwy. 34.
West Lake and Marina:
I-35 Exit 34 West, Osceola.
Liberty Park:
U.S. Hwy 69 north of Osceola, 2905 Walker St. Liberty, Iowa.
Coyote Canyon Wildlife Area:
Located 9 miles northwest of Osceola, directional signs from County Road R35 and Pacific Street to 180th Ave.
Green Pine Wildlife Area:
Located 8 1⁄2 miles northeast of Osceola on county road R50.
Turkey Ridge Wildlife Area:
5 miles south of Osceola on U.S. Highway 69, then 2 miles east on county road H45, and 3⁄4 miles south on 250th Avenue.
Stephens State Forest:
West on Hwy. 34, Woodburn, Iowa.
Lakeside Casino:
I-35 Exit 34 West, Osceola.
Clarke County Fairgrounds:
2070 Hwy. 34 West, Osceola
Revelton Distilling Company "Harvest Hosts":
I-35 Exit 34 East, Osceola.
WELCOME TO CLARKE COUNTY
Sitting squarely in the crosshairs of I-35, Highway 34 and Highway 69, Osceola is on the move! It will un- dergo major changes with infrastructure improvements to the Historic Downtown District, the Highway 34 corridor and Highway 69-Main Street.
Three new businesses enhance Highway 34: Community First Credit Union, Family Dollar Store, and a "Quick Visit Clinic". Newly constructed sidewalks line both sides of the newly resurfaced highway.
Just off I-35 at the Clay Street Exit, Revelton Distill- ing Company commands attention. Rob and Christi Tay- lor built the multi-million-dollar operation by following a green business plan and cultivating partnerships. They use American-made products; hire mostly local contractors; procure grain and honey from nearby producers and make the used mash available to feed livestock. It is one of the few grain-glass distilleries around.
Recently, Revelton was added to the Iowa Tourism's new Iowa Distillery Passport program, one of eight dis- tilleries participating. The passport, available at traveliowa.com/passport, provides a free digital mobile road map to distilleries statewide, complete with curated discounts and deals
Historic downtown changes on the horizon
The downtown streetscape begins in the spring of 2024. The long-planned super project suffered setbacks because of increased wastewater management costs, but it will provide upgraded infrastructure and a needed facelift to the Historic Downtown: wider sidewalks, and sidewalks on all sides of the courtyard; ADA bump outs at crossings; new lights and sound system, water permeable hardscape will allow for water drainage and a water detention area will prevent flooding; and a pocket park including a mural, ADA seating and plantings will give purpose to an empty lot.
These changes are sure to attract more businesses, upper story housing and tourism to the downtown.
Added Amenities
Osceola amenities continue to improve and expand. The walking/biking trails are nearly complete from East Lake Park all the way to Q-Pond. The new East Lake Park campgrounds and amphitheater are finished, and a planned adjacent dog park will be conveniently close to all the Park activities.