What's new in Bedford? Well to be quite honest, quite a bit!!
If you haven't been to Bedford recently, I encourage you to grab some friends and come spend the day, the weekend or maybe longer! With historic features such as our red brick streets and tin ceilings in many buildings, you will find your self feeling a little nostalgic regarding days gone by. But these streets and buildings have come to life with new specialty shops and delicious dining options! Trendy and upscale interiors paired with unique specialty products may give you a big city feel, but you will soon come to realize why Bedford downtown is making a comeback and is worthy of the title, small town charm! The heart of this community is filled with entrepreneurs who care about creating a positive experience for their customers as well as highlighting the great attributes of our charming community!
Tampico Family Mexican Restaurant is helping fill our streets with license plates from all over the states of Iowa, Nebraska and Missouri! They are open everyday for lunch and dinner! The portions are big and the taste is even bigger!! You will not be disappointed!
Looking for something a little lighter for breakfast or lunch? Perhaps soup, salad or a panini is more your style? Porter's Market is the place! The loaded avocado toast is a must try for breakfast! Restoration on this building looks amazing, just like the food!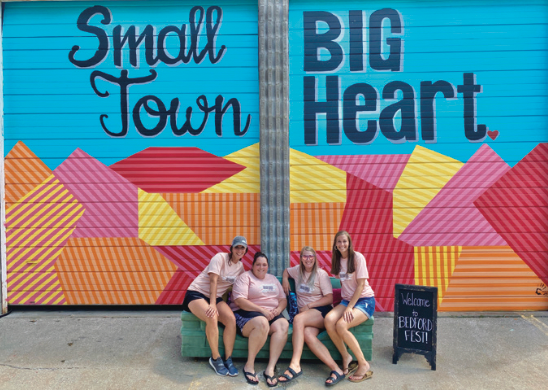 And just in case you were looking for an old-fashioned candy store, we have that too! Opening in January, this is sure to be a hit with young and old! What a great addition this will be to our already thriving downtown!!
It is my belief that people still want what we provide. . . a unique experience reminding people of simpler times when business owners cared about their customers and communities and wanted to provide them with great products and superior service at a reasonable price!
See you soon!
Deer Ridge at Lexington
Deer Ridge at Lexington is Southwest Iowa's premier event destination! Featuring both a large event space and attached luxury lodging, it's the perfect location to host any type of event. Built in 2020, the newly constructed venue offers guests a peaceful retreat with fun amenities and upscale finishes.
The lodge features overnight accommodations for up to 16 with all guest rooms and hotel-style suites, opening into a spacious great room. Guests will enjoy the cozy fireplace, comfortable living area, beautiful gourmet kitchen, and large dining table while overlooking the serene Iowa landscape through the picture windows. Three full bathrooms with marble showers and plush linens will spoil our guests with all of the luxurious comforts of home.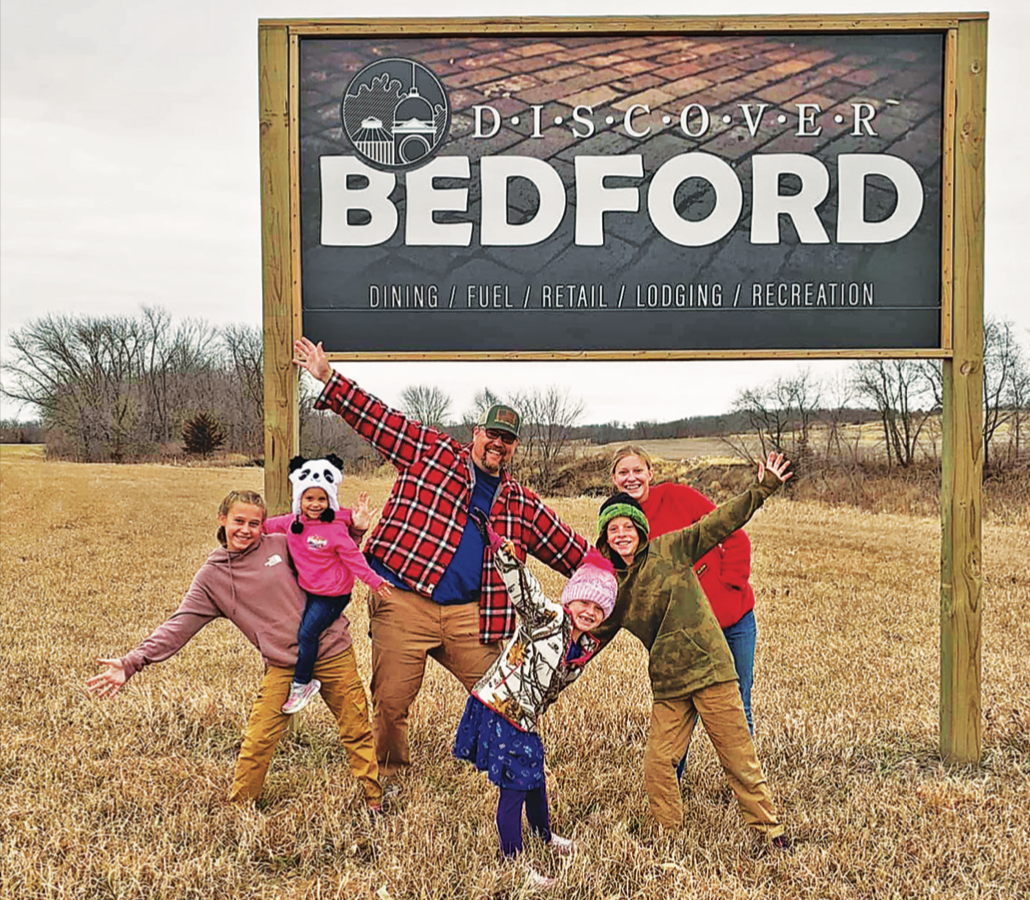 Our climate-controlled event space is large enough to seat 350 guests for a wedding or event, but flexible enough to host a small meeting of 50 or fewer. Each reservation is tailored to our client's needs and includes set-up of tables and chairs, floor length linens, audio/visual equipment, use of catering prep area, access to our spacious and beautifully landscaped patio with bar, and so much more!
NEW for Spring, 2023 will be the opening of a new RV Park located on-site! Not only will it serve as an additional lodging option for those visiting the venue for a wedding or event, but it will also be open to the public. All 20 sites have 50/30/20amp service, water hydrant, picnic table, and fire ring. Eight of the 20 sites have full sewer, and select sites offer upgraded amenities including pull-through and buddy site, or concrete pads just 30 feet from the water's edge!
If you are looking for a place to host your next celebration or meeting, need accommodations for visiting guests, or are ready to try a new camping spot…we invite you to be our guest! You can schedule a tour by calling Angela at 712-542-9272, or visit us anytime at http://www.deerridgeatlexington.com
ATTRACTIONS
Bedford Municipal Swimming Pool
Bibbins Park, Bedford
Lenox Holiday Lights Displays
Highland Park, Depot, residences
December
641-333-4272
Lenox Municipal Swimming Pool
Lenox City Park, Lenox
641-333-4141
Lenox Restored Depot
Lenox
Main Street Pocket Parks
w/murals & sculptures
Mid-Main Street, Lenox
641-333-4272
Spring's General Store & Cafe
Main Street, Sharpsburg
641-349-8416
Taylor County Historical Museum
1001 W. Pollock Ave.,
Bedford 712-523-2041
EVENTS
May 20: Red Brick Run, Bedford
May 20: City Wide Garage Sales, Bedford
May 21: Bedford High School Graduation, Bedford
May 21: Graduation, Lenox
June 3: Town-wide Garage Sales, Lenox
June 3: Pocket Park Market, Lenox
June 3: Kids Free Fishing Clinic, All Counties
June 24: BedfordFest, Bedford
July 1: Picket Park Market, Lenox
July 3: Fireworks @ Lake of Three Fires, Bedford
July 12-16: Taylor County Fair, Bedford
July 19: Rodeo Parade, Lenox
July 19: Old Fashioned Fun Night, Lenox
July 21: Queen Context, Lenox
July 22: Dance After Rodeo, Lenox
Aug. 4: 24th Annual Golf Tournament, Lenox
July 5: Pocket Park Market, Lenox
Sept. 2: Pocket Park Market, Lenox
Oct. 7: Pocket Park Market, Lenox
Oct. 31: Halloween Trunk-Or-Treat Parade, Lenox
Nov. 24: Christmas Carnival / Park Lighting Ceremony, Lenox
Nov. 24-Dec. 24: Depot Welcome Center, Lenox
Nov. 25: Bright Lights Market, Lenox
Dec. 2: Miracle on Main Street, Bedford
Dec. 6: Shining Hospitality Tasting, Lenox
Aug. 6: Steel on Wheels, Lenox
Sept. 3: Pocket Park Market, Lenox
Sept. 18: Fall for Bedford, Bedford – The Round Barn
Oct. 1: Pocket Park Market, Lenox
Oct. 31: Downtown Trick or Treat, Bedford
Oct. 31: Trunk or Treat, Lenox
Nov. 25: Christmas Carnival, Lenox
Nov. 25: Lighting Ceremony, Lenox
Thru Dec. 25: Bright Lights & Shining Hospitality, Lenox
Nov. 26: Shop Small Saturday, Bedford
Dec. 7: Bright Lights Cruise Night, Lenox
LENOX SESQUICENTENNIAL CELEBRATION: JUNE 30-JULY 3
PLACES TO STAY
The Bedford Inn
607 Jefferson St.,
Bedford
858-205-2301
The Barn at Blockton
611 King St., Blockton
641-344-2500
The Barn at Kent Farms
1232 250th St.,
New Market
712-435-0609
Ethel Mae's Cottage
904 Central, Bedford
712-542-9272
The Heritage Inn, B&B
300 N. Main St., Lenox
319-360-2163
Lake of Three Fires Cabins
Lenox Lodge, B&B
Now taking reservations
Call Amanda
641-413-3788
The Lexington Inn
2264 Lake Rd., Bedford
402-305-3506
Skylark Motel
108 Pearl St.,
Bedford
712-523-1015
PARKS/CAMPGROUNDS
City Parks:
Bedford, Blockton, Clearfield, Conway, Gravity, Lenox, New Market, Sharpsburg
3 Lake Camp Ground:
Lake Shore Dr., SE of Golf Course. Lenox Municipal Utilities, 641-333-2550.
LaDoga LaBlanche Orchards:
Lake of 3 Fires State Park:
2303 The Lake Road, Bedford. Park Ranger: 712-523-2700
Sand's Timber Recreation:
Co. Road J55, Blockton. West of Yellowstone Ave.
Windmill Lake:
Wilson's Lake:
South & east of Lenox
Managed by Taylor Co. Conservation Board.
WELCOME TO LENOX
At the Heart of Sharpsburg for 50 Years – Spring General Store
By Beverly Bender
As I was growing up, one of the treats you could look forward to was a 5 cent dip of ice cream at Chitty's store. Years have come and gone since you can purchase a dip of ice cream for a nickel but the store remains the center of the Sharpsburg community.
Harold and Linda Spring purchased the store from Paul and Gladys's Chitty in 1972 and have been in business for 50 years. Home cooking is a specialty of theirs. You can either come in and pull up a chair or call into the store where your order will be ready for you to pick up. There is nothing like a good hot meal to enjoy while sitting in the combine or on the tractor during planting or harvesting season. Mashed potatoes and noodles, meat loaf with all the trimmings are always homemade and guaranteed to be great! If you don't believe it… come and try them!
The store is a popular gathering place, 9:00 every Monday Morning our Monday Morning coffee club meets for homemade cinnamon rolls, cookies and all kinds of goodies as we gather around the table, (yes the men at one and the women at the other, but that's ok) and for an hour we visit. We share information about who is sick, who is better, and best of all, funny things that have happened since that last time Harold poured that wonderful cup of coffee. It is free to all, though occasionally we put a little some- thing on the table to defray the costs. A cup of coffee is still 25 cents!
Not only are they in operation, but every week, I send Linda my grocery list and she does my shopping for me. I am ever so grateful for her doing this. Not only does Harold deliver them the next day, but he also delivers meals. Just call down and let them know what you want to eat and it will be delivered hot to your door. When the pandemic was in full swing and they were not allowed to serve around their tables so they served takeout meals. They are open Monday through Saturday, from 8 AM to 5:00 PM. Meals served from 11:00 AM to 1:00 PM. If there is any doubt in your mind as to if they are open, please call 641-349-8416. Sometimes they do take a bit of time off to go to a Studebaker show. Harold has a beautiful blue truck that he has won many a trophy from shows all over the country. He proudly displays them at the store. We enjoy hearing all about their travels and experiences.
Thursday at 3:00 we start strolling in for Bible Study. We have several who do not live in Sharpsburg, but enjoy coming to read the scripture that we are studying. Of course most all of us share our opinions, which is good. I would say it is not a quiet group and there is usually lots of laughter. A truly wonderful experience. I would say we average around 12 .
Then of course there is fellowship after Christmas caroling with hot chocolate and goodies to eat. As I said, it remains the center of our little town.
When Harold and Linda first bought the store, Harold was driving a semi-truck over the road, so she depended on her mother Phyllis Breach, who is now 92 years old and still goes to the store every day, unless it is bitter cold. There is always a puzzle to add a few pieces to, a full line of groceries, especially ice cream, canned goods, fresh fruits and vegetables. Lots of collectibles for sale and some belonging to the Springs that are not for sale. I once wanted an embroidery hoop, not a plastic one either, but could not find one. I had to look no further than a block away to find one…that is right…it was in Springs Store!
Not only was Phyllis helping out at the store, but Linda's grandmother Anna Breach did dishes until she was 80! Now that is the kind of families we have in Sharpsburg! When families need help, families are there to help!
These are only a few reasons why Springs Store is the center of our little town. It is overflowing with love, kindness, giving, hospitality and the best homemade meals you will find in this part of the country. If you are looking to take a road trip and want an experience any or all of those things; I urge you to put Spring General Store, Sharpsburg, Iowa at the top of your bucket list.
Lots of Love in Lenox, Iowa
By Dave Baker, the photographer, essayist, and researcher behind the Iowa history blog "The 29th State."
Lenox, Iowa is a town of roughly fourteen hundred hard working residents who are proud of their community; a place known for its "bright lights and shining hospitality." During the Christmas season, this town motto is taken quite literally as illuminated homes line street after street with captivating displays celebrating wonder and excitement. The centerpiece of it all is Highland Park, a beautifully landscaped site that during warm weather has a commu- nity swimming pool, modern playgrounds, and shelters for reunions and parties. At Christmastime however, the park turns into a wonderland for both the young and old. Nearby on Main Street, shops and stores are decorated as they were in days of yesteryear, with a large Christmas tree standing in the midst of the street.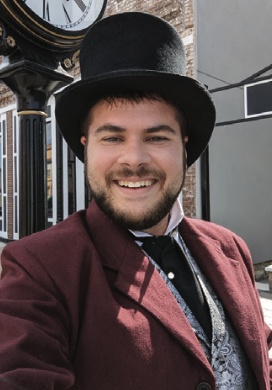 One does not have to wait until Christmas however to visit this community as there are activities going on year-round. Perhaps the most famous of the warmer weather events is the Lenox Stock and Saddle Club Rodeo. Initially begun as a fundraising event for World War II veterans, the annual July rodeo is now sanctioned by the United Rodeo Association and includes many crowd favorite competitions, the most popular of which is bull riding. Those preferring more placid outdoor activities can take advantage of Wilson County Park and Wilson Lake Campground, a fishing favorite located two and a half miles south of the rodeo grounds, just outside the city limits. On the north side of town, the Lenox Municipal Golf Course offers an enjoyable nine-hole retreat.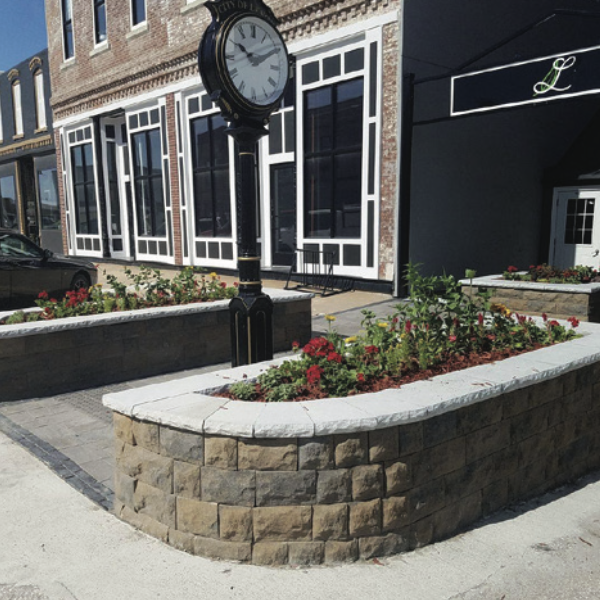 Those wishing to stay in Lenox can take advantage of the bed and breakfast inns that the town has to offer, all of which are located a short walk from the business district. Lenox has a traditional Main Street which is home to small businesses, and local dining. Long impacted by the vicissitudes of southern Iowa, the Main Street has seen a rebirth in the last decade with new shops and stores opening and buildings seeing a refresh. Pocket parks along the alleyways offer pleasant places to rest amongst the architecture. Several of the buildings have withstood fire and even a tornado testifying to the quality of their construction and many hearken back to the early 20th century. The town has two traditional hardware stores, a pharmacy (which, before being sold in 2013 owned by the same family for over a hundred years), a grocery store, coffee shop, library, newspaper office, bowling alley, and several restaurants. It is also home to several churches (the St. Patrick Catholic and United Methodist Churches celebrated 150 years in 2022) and the Lenox Public Schools.
It takes people, however, to make a community vibrant and Lenox is home to a diverse population of friendly residents who make visitors feel at home. They are engaged in the community and work together to bring about positive changes when necessary. For a slower, friendlier pace of life, visit Lenox, Iowa. You'll be glad that you did!
Pocket Park Markets in Lenox
Such a strange name for an upscale farmers market/vendor show, right? Well, if you drive Lenox's Main Street, one of the first things you will notice are the two raised-stone planters curb bump-outs at mid-Main Street. These bump-outs were installed to add beauty, slow traffic and ease crossing for pedestrians. The curb bump-outs create entrances into two stone paved pocket parks where there used to be unused, dilapidated alleys. These curb bump-outs and pocket parks are twins, directly across the street from one and other, but they are not identical twins. The west side features a beautiful pedestal clock and the east side features a unique custom metal sculpture.
The pocket parks are an ideal venue for outdoor events. Thus, the Lenox Area Chamber of Commerce sponsors a monthly market there and the vendors' booths spill out into that block of Main Street, as well. The markets are the first Saturday of the months of June-October, from 9am – 1pm.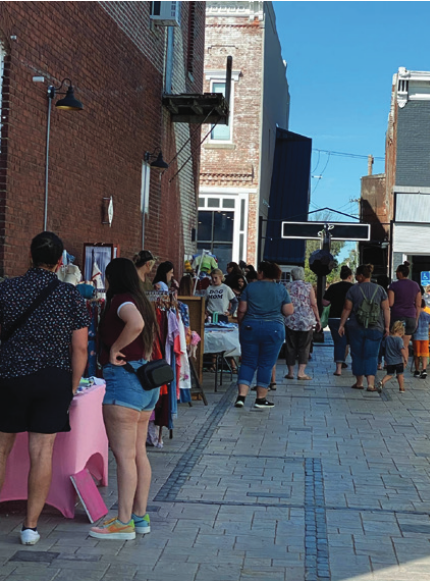 These Pocket Park Markets are more than the typical farmers markets. There are 20-30 various types of vendors; crafters, home businesses, bake sales, produce and more. With live music, performing arts shows, and food trucks and brick and mortar eateries, they have a unique outdoor festival
feel. Many people like to come to shop, eat, and hang-out at the tables to visit with friends and watch the activities.
Many of the vendors come each month and there are a several new ones each month. The vendors enjoyed the markets so much, they asked for a winter market, as well. The Chamber accommodated them with a Bright Lights Market on the Saturday after Thanksgiving. As vendors are, indeed, small
businesses, it just makes sense to hold it on Shop Small Businesses Saturday. This market, too, was a success.
The dates for the 2023 Pocket Park Markets are:
June 3 (Also town-wide garage sales)
July 1
August 5
September 2
October 7
Call the Lenox Chamber office if you would like to vend or have questions. 641-333-4272. Watch Fb: Pocket Park – Farmers Market, Lenox Iowa for announcements and information on vendors.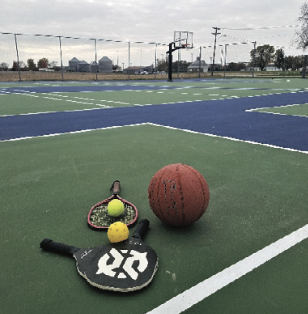 The Lenox Courts
1977 – Two individuals donated land in the city limits to the City of Lenox. Tennis was a popular sport at the time, thus the City built two tennis courts and a basketball court on the property.
2001 – The City of Lenox resurfaced the courts as they had deteriorated.
2021 – The courts deteriorated and an anonymous benefactor donated $30,000 to resurface the concrete and develop other court options. The space contains a basketball/tennis court, 2 Pickleball Courts, 2 Shuffleboards, and a 4-Square.

2023 – Many children and adults enjoy recreation at the Lenox Courts. The most popular courts are the Pickleball and Basketball Courts. Pickleball, a cross between tennis and ping pong is the fastest growing sport in America. Most days you will find a group of crazy Pickleballers at The Courts. Stop and ask them to teach you how to play.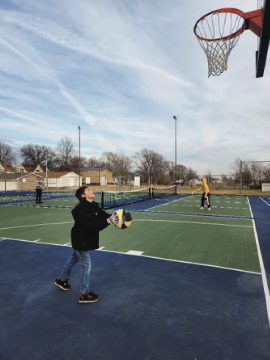 Angels Are Alive And Well
Angels live in the hearts of Southwest Iowans. The City of Lenox and the St. Patrick's Catholic Church in Lenox celebrated 150 years in 2022. During this time; in the 1970's Rev. Dan Siepker noticed several families were having a hard time making ends meet. He suggested the parish members start an "AngelTree". On this tree were the names of family members who might not get much for Christmas. Here was a chance to help a needy family.
The families were contacted (anomalously) and gift suggestions were placed on angel tags. Parish members selected a tag and bought and wrapped the gift for that family member. This quickly became popular with the Lenox Ministerial Association members.
Now, 40 years later, each of the Lenox Ministerial Association members get together to share names of needy children under the age 18 and divide the names and places them on an Angel Tag in their denomination. As conditions improve, many families who were once struggling; remove their names from the list and join in buying for others.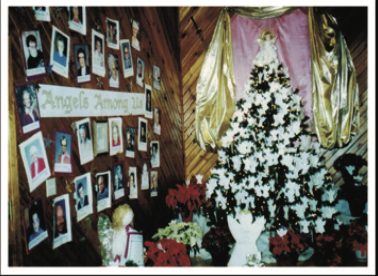 We also remember those "Angels" each year at the Lenox Community Center Lenox Welcome Center during the Christmas Season.
The Lenox Sorority Sisters place a photograph of each resident who has passed away on the "Angel" wall. Visitors to the Depot Welcome Center are invited to write a note or prayer for the soul of who has passed and hang it on the tree. This is one of several places you will find Angels in the hearts of all.
Pony Express Riders of Iowa
A network of volunteer "Riders" who host fundraisers in their home counties throughout the year.
While the annual ride held Easter weekend involves horses, many members don't ride or own horses. With regional rides starting a various points across the state; one of the Southwestern Routes starts in Shenandoah, Iowa and travels through Lenox, Iowa where the riders will stop and parade the town before continuing on to join up with the riders on Highway 34 to ride into Creston. In Creston the day will end with a celebration dinner and dance. Then on Saturday the riders will proceed to converge in Des Moines for the big ride into Camp Sunnyside on Saturday afternoon. A Victory dance to announce the year's grand total .. Pony Express Riders of Iowa have raised over 11 million dollars for Camp Sunnyside since its inception in 1968.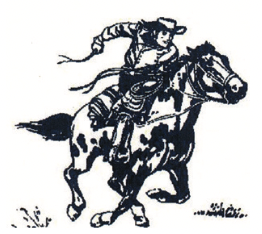 Why We Ride:
Money raised by Pony Express goes specifically to Easter Seals Camp Sunnyside. Camp Sunnyside serves more than 1,000 Iowans with disabilities ev- ery summer. It is widely known as a summer camp for children and adults with disabilities, but beyond that, to mention just a few of the services, it is…
A place to try new activities and learn new skills like horseback riding, boating, and camping (Summer Camp, Life Club, Day Camp)
A place that will loan a wheelchair or other durable medical equipment to a family who cannot afford to buy one. (Equipment Loan Program)
A place that will help farmers who have a dis- ability stay on the farm when they thought there was no hope. (Rural Solutions Program)
A place where children with and without dis- abilities are able to learn together in an integrated child care setting (Bob & Billie Ray Child Development Center)