Ringgold County Conservation is thrilled to announce that thanks to funding from the Ringgold Foundation grant, CIPCO grant, CoBank
Sharing Success Program and the Dragoon Trace Nature Center Trust Fund, the interpretive trail around the nature center received an upgrade! The previous pea gravel trail was transformed into a hard-surface concrete walking trail to improve walkability and inclusive accessibility. The interpretive trail features educational signage, sculptures, outdoor bird enclosure, amphitheater and more!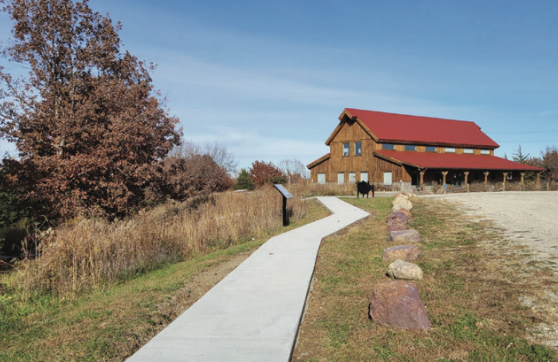 With the onset of the COVID19 pandemic, we have seen a significant increase in the usage of our outdoor recreational areas. This has highlighted the need for more localized programming and activities that all ages and abilities can actively enjoy to help improve the health and wellness of our community throughout the year.
Ringgold County Conservation has been a leader in the community for providing new projects and programming through their out-of-the-box thinking. Our goal is to provide long lasting improvements to our recreational and educational resources while providing accessibility to all visitors to the Dragoon Trace Nature Center.
Road Trip Ringgold, June 3
Road Trip Ringgold is a one-day event aimed at highlighting Ringgold County and all the communities that encompass it. Road Trip Ringgold is held the first Saturday in June annually and will hold it's second event June 3rd, 2023.
Road trip with us through the backroads of Ringgold County discovering hidden treasures and communities along the way! This county-wide rummage sale and shop hop style event will sprawl from community to community and will be highlighted on our Road Trip Ringgold Event Map.
This map along with a list of stops, locations and shopping opportunities will be promoted throughout the Midwest Iowa Region.
Please visit www.intheayr.com/road-trip-ringgold to see how you can participate in the tour and have your business or location poromoted!
ATTRACTIONS
Corn King Mural
Mount Ayr Post Office
Diagonal Printing Museum & Genealogy Ctr
Diagonal
Ellston Museum & Pioneer Village
Ellston
First Hy-Vee Store
Beaconsfield
Freedom Rock
Diagonal–Main Street
Judge Lewis Part & Swimming Pool
West Mount Ayr
Lock Ayr Lake
2 miles n of Mount Ayr
Lucky Lanes Bowling
Mount Ayr
Mount Ayr Public Library
(a Carnegie library)
121 W/ Monroe
Mount Ayr
641-464-2159
Mt Ayr Restored Depot
Mount Ayr
Peggy Whitson Rock
Courthouse Yard
Mount Ayr Square
Princess Theater
Mount Ayr
Redding City Park
Redding
Ringgold County Courthouse
Mount Ayr,
641-464-3239
Sun Valley Lake
East of Ellston
EVENTS
April 19: HELP Youth Pod Community Service Day, Ringgold
April 20: Diagonal Spring Music Concert Diagonal, Ringgold
April 27-30: Ryann's Dance Academy Dance Recital, Mt Ayr, Ringgold
May 8: Spring Vocal Concert Mount Ayr, Ringgold
May 12: High School Graduation Diagonal, Ringgold
May 21: Mount Ayr School – High School Graduation Mount Ayr, Ringgold
May 29: Mount Ayr Memorial Day Service, Mt Ayr, Ringgold
May 29: Tingley Memorial Day Service, Mt Ayr, Ringgold
May 29: Diagonal Memorial Day Service, Mt Ayr, Ringgold
June 3: Road Trip Ringgold
Aug. 26: Ayr Days Celebration, Mount Ayr
Aug. 27: Ice Cream Social, Tingley
Sept. 3-4: Labor Day Celebration, Diagonal
Oct. 1: Beggar's Bash, Mount Ayr
Oct 20-21: ROA Haunted House, Mount Ayr
Oct. 27-28: ROA Haunted House, Mount Ayr
Oct. 29: Tingley's Halloween Parade & Fun Night, Tingley
Nov. 4: Ringgold Co. Development Corporation Annual Event
Nov. 23: Mount Ayr Turkey Trot, Mount Ayr
Dec. 2: Lighted Christmas Parade & Festivities, Mount Ayr
Dec 7: Christmas Ladies Night, Mount Ayr
PLACES TO STAY
Armstrong Guest House
204 W. Monroe St
Mount Ayr
641-344-5553
Charlie – Jane's B&B
400 W. Madison
Mount Ayr, IA
641-464-2564
Mount Ayr Inn & Suites
Intersection of Highways 169 & 2
Mount Ayr, IA
641-464-3500
Lesanville Inn B&B
2285 270th Ave.
4 miles east of Mount Ayr on Highway 2
641-414-8550
PARKS/CAMPGROUNDS
Fife's Grove Park
2 miles north on West Street, Mount Ayr. 641-464-2787
Fogle Park Recreation Area
Northwest edge of Diagonal. 641-734-5491
Kokesh Recreational Area
1 mile south of Diagonal. 641-464-2787
Poe Hollow Park
Hwy. 2 East, Mount Ayr. 641-464-2787
Liberty Lake
2173 State Hwy. 169, Mount Ayr. 641-464-2787
MOUNT AYR
Mount Ayr was founded in 1875 and was named in honor of poet Robert Burns' birthplace in Ayr, Scotland and the "Mount" was added to indicate its location on the highest point of land in the area. Mount Ayr is also the county seat of Ringgold County.
Mount Ayr has a great school, hospital, and medical facilities. Judge Lewis Park is a welcoming city park that includes a swimming pool, baseball/softball fields, playgrounds, and a walking trail.
The town square has many businesses surrounding the square with the Ringgold County Courthouse in the middle. The courthouse is surrounded with a courtyard that includes a shelter house, Veteran's statues, and benches to sit and enjoy the day.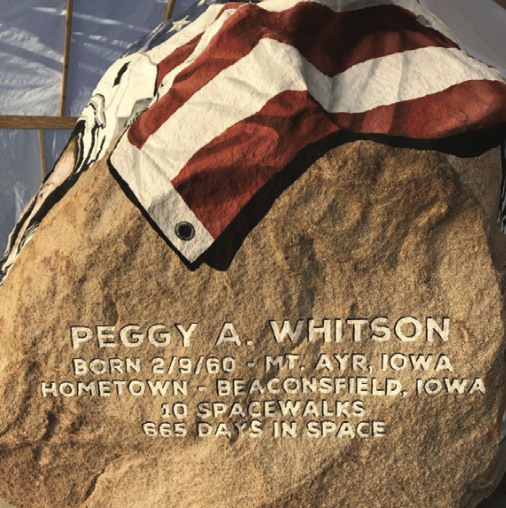 MOUNT AYR
Sitting on the southwest corner of the courtyard is a rock honoring Former Astronaut Peggy Whitson that was painted by Freedom Rock artist Ray "Bubba" Sorensen. Whitson was a 1978 graduate of Mount Ayr High School. She logged in 665 days in space through three missions on the International Space Station, more than any other American astronaut.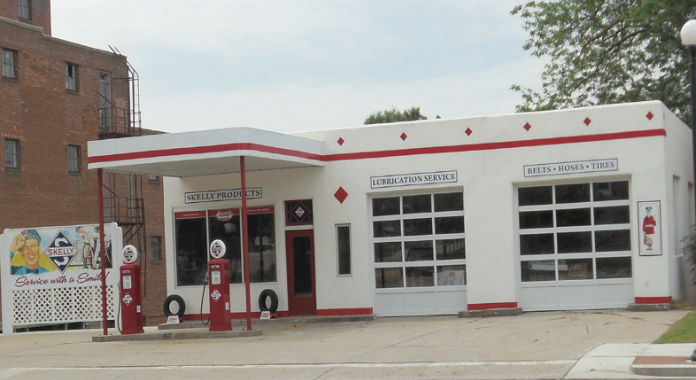 On the south side of the square is the restored Skelly Station which has been a great back- drop for many photographers. Originally built in 1941, it ceased operation in the early 1980's. The vacant building was restored in 2011-12.
Mount Ayr has several other cultural, recreational and entertainment venues such as the Mount Ayr Public Library, the Princess Theater, Mount Ayr Golf & Country Club, Lucky Lanes Bowling Alley, and the Ringgold Outdoor Alliance basketball and volleyball courts.
Ringgold Senior Activity Center is a great place for the older crowd to gather to visit, play cards, exercise, and have events. Their building is available to rent for private events as well. For the youth in town there is the Upper Limits Teen Center with activities every weekend.
Mount Ayr Inn & Suites is a reality from investors in the community that saw a need for a new hotel in town. Each of the thirty guest rooms and the lobby were recently updated with a contemporary design to provide a quiet, comfortable retreat. Mount Ayr also has a bed and breakfast called Charlie-Jane's. Within walking distance to downtown it offers a relaxing experience with a full breakfast menu.
This is just a few things that you can enjoy when you visit MountAyr. They also have many restaurants and shops to check out as well.